A Movie That Could Challenge Racism, Sexism and Pass the Bechdel Test? Are We Dreaming?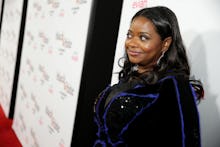 No really, what's the catch?
Octavia Spencer will star in the upcoming film Hidden Figures, about a real-life group of mathematical geniuses who played a major role in the U.S.' expeditions to space — and who also happened to be black women.
Spencer will star opposite the film's protagonist, played by Taraji P. Henson.
The screenplay is based on Margot Lee Shetterly's forthcoming book by the same name.
Read more: Shonda Rhimes Owned Her Success in the Best Way at the Producers Guild Awards
The team of seven masterminds helped NASA with a number of major space odysseys, among them John Glenn's 1962 Friendship 7 mission, during which he became the first American to orbit the Earth. The film will zoom in on three of those women: Katherine Johnson (Henson), Mary Jackson and Dorothy Vaughan. Spencer's role is yet to be publicly confirmed.
Given the subject matter, the film is also likely to pass the Bechdel Test, which requires two female characters appear in one scene discussing something other than a male love interest. (It's not nearly as common as one might think.)
A FiveThirtyEight analysis of nearly 2,000 films released between 1970 and 2013 found that only around half passed the test. Another analysis determined that those films that do meet the Bechdel stipulations are produced with a substantially lower budget than those that do not.
"What's more, we found that the data doesn't appear to support the persistent Hollywood belief that films featuring women do worse at the box office," FiveThirtyEight said. "Instead, we found evidence that films that feature meaningful interactions between women may in fact have a better return on investment, overall, than films that don't."
Furthermore, Hollywood's race problem persists. For the second year in a row the Academy of Motion Picture Arts and Sciences drew ire after it again nominated a whopping zero actors of color, prompting the #OscarsSoWhite campaign on social media.
Hidden Figures has the potential to help shatter racial barriers, given Hollywood's dearth of meaningful roles for people of color, but the project is equally remarkable given the similar biases women — women of color in particular — working in sciences, technology, engineering and mathematics, or STEM, face. 
According to a Harvard Business Review study from March, around half of Latina and black women working in STEM have been mistaken for "administrative and custodial staff." And women are frequently regarded as less qualified than their male peers. 
The trickle-down effect only serves to augment the problem. Microsoft's DigiGirlz video showed that while 7 in 10 girls have an interest in this arena, only 2 of those 10 actually go on to pursue work in STEM.
Between Hidden Figures' potential to defy the entrenched racial and gender prejudices in film, STEM and, well, history, this could be a landmark moment for Hollywood.