Tampa Police Are Refusing to Work at a Beyoncé Concert for Her "Anti-Police" Performance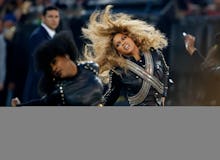 Police in Tampa, Florida, may offer a chilly reception to Beyoncé — if any reception at all — when she hits the city for a stop on her Formation World Tour, the Washington Times reported.
Reportedly, Tampa officers are still smarting over her Super Bowl halftime show that featured dancers in Black Panther-style costume; nor are the police thrilled with her "Formation" music video that shows a young black child standing before riot police and graffiti with the words "stop shooting us." 
And so, the sign-up sheet for off-duty officers willing to work security for overtime for the April 29 concert at Raymond James Stadium remains blank.
Read more: The Anti-Beyoncé Protest Could Not Get in Formation — Only 3 People Showed Up
"We're going to staff it because we have a responsibility to do that regardless of how controversial it might be, who the artist might be or the politician might be," Steve Hegarty, a spokesman for the Tampa Police Department told the Times. "This is a couple of months away, so we've still got plenty of time to fill those slots."
But Beyoncé's latest work has struck a nerve with pro-police groups around the country, and some are even calling for a Beyoncé boycott. 
On Tuesday, a Tennessee sheriff blamed the video for shots near his home the night before, and accused the halftime performance for inciting the deaths of multiple police officers around the United States. His views were echoed by the the National Sheriffs' Association. 
"The senseless killing of four law enforcement officers just this week — on the heels of the anti-police 'entertainment' at the Sunday Super Bowl halftime show — reminds us that the men and women in law enforcement take a solemn oath that includes putting their lives on the line every day to protect our citizens," the group wrote on its website.  
This sounds like a job for the Beyhive.
Correction: Feb. 22, 2016
Get the five stories that will challenge you to rethink the world by signing up for MicCheck Daily.