Some Conservatives Tried to Sabotage an LGBT Group, But Accidentally Donated $32,500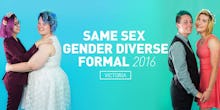 Since 2010, the Australian LGBT youth organization Minus18 has held an annual Same Sex Gender Diverse Formal for "gender diverse and same sex attracted" students from all over the country. When the conservative group Stop Safe Schools Coalition found the event, however, they urged their Facebook followers to sabotage it. But their ill-conceived method of doing so actually resulted in tens of thousands of dollars of donations to the LGBT group.
"Imagine being told by your school that the clothes you feel comfortable wearing to a formal aren't considered 'normal' or don't conform to a dress code," Minus18 wrote of its mission on a fundraising page for the formal launched. "Imagine not being allowed to take a partner of the same sex, or being too afraid to attend altogether. It's a sucky reality for gender-diverse and same-sex-attracted students from all over Australia, who are bullied or made to feel unsupported because of their identity."
The Gender Diverse Formal seeks to allow attendees to "feel safe, included and be themselves," and is raising funds to sponsor attendees unable to afford the ticket cost so that the event is as inclusive as possible.
But when the Stop Safe Schools Coalition, an organization that opposes the Australian Government's LGBT friendly "Safe Schools Coalition," caught wind of the LGBTQ group's efforts, they urged their hundreds of followers to act. 
"Stop this madness before it consumes every area of education and all your child gets at school is indoctrination not education," the group wrote in a Feb. 12 Facebook post. The next day, they encouraged followers to buy tickets to the event, reasoning that because tickets are non-refundable, "the more tickets sold to us, the more youth we protect," the post said.
What the group didn't realize was that ticket funds go not just toward the formal costs, but also support the organization at large. By Friday morning, the group had raised $32,500 — well surpassing its original goal of about $10,000 — and effectively sending "a really strong message" that "LGBTI young people deserve to feel included and safe," Micah Scott, chief executive of Minus18, told the Guardian.
Studies show that safety and inclusion are of much concern to Australian youth. According to the Australian Human Rights Commission, 61% of LGBTI youth in the nation experience verbal homophobic abuse and 80% of homophobic bullying occurs among youth at schools. Of course, it's a problem that extends well beyond Australia: In the United States, for example, as much as 40% of homeless youth have identified as part of the LGBT community, and homeless LGBT youth report leaving home due primarily to family rejection, according to a study by the Williams Institute.
And that's exactly why efforts like Minus18's dance are so important. As the group summarized of this series of events on their fundraiser page, "We won't let hate win! Keep sharing and letting LGBTI youth know they're loved, supported, and deserve an an amazing night to be themselves!"
h/t Business Insider