Did Shelbie Z Make 'American Idol' Top 14? All Semifinalists Announced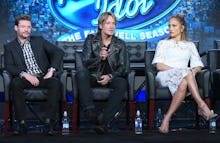 Richard Shotwell/AP
American Idol judges have named the 14 final contestants for its final season. Though fans are saying there were a couple of curveballs and letdowns, next week marks the start of fan voting for the remainder of the season. 
The judges — Jennifer Lopez, Keith Urban and Harry Connick Jr. — announced the first half of the final contestants last week: La'Porsha Renae, Sonika Vaid, Avalon Young, Gianna Isabella, Thomas Stringfellow, MacKenzie Bourg and Jeneve Rose Mitchell.
Read more: Taylor Swift Threw Serious Shade at Kanye West During Her Grammy Acceptance Speech
And the second half of the 14 finalists was announced this week: Olivia Rox, Dalton Rapattoni, Tristan McIntosh, Jenn Blosil, Lee Jean, Manny Torres and Trent Harmon.
Fans weren't happy that contestant Shelbie Z, a rock-country singer and Alabama native, didn't make the cut:
But encouraged her not to give up.