Lady Gaga Tears Up the Runway with Surprise Marc Jacobs Runway Appearance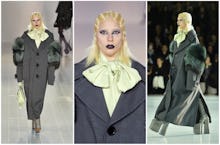 On the (very large) heels of her headline-making Super Bowl performance and the announcement that she's getting her own Mattel doll, Lady Gaga decided to make a special unannounced appearance at New York Fashion Week. 
On Thursday evening, Gaga surprised the audience at Marc Jacobs runway show by strapping herself into a pair of sky-high platforms and strutting down the catwalk. 
Rocking overlined eyes, black lips and slicked-back 1920s finger waves, Mother Monster fit right in with her punk rock schoolgirl flair. On the runway, she wore a long, '30s-inspired coat with fur accents and a light green purse while other models, which included Kendall Jenner, wore elaborate coats, sparkles and goth-inspired pieces. 
Gaga and Jacobs have a deep history, including collaborating for half-naked magazine covers, performances, stagewear and most recently, original clothing, when Jacobs designed the blue coat Gaga wore as a dress in a nod to David Bowie at the 2016 Grammy Awards. 
This also isn't the first time Jacobs, widely considered to be a good friend of Gaga's, has brought a celebrity onto his runway. In September, he recruited punk rocker Beth Ditto to walk in his show. Clearly, he's set a precedent so we can only imagine who he'll invite next season. (Someone please tell us it's Britney.) 
But for this show in particular, one where the shoes were massive, near-unwalkable platforms, who else could handle it but Lady Gaga, the platform queen herself?
The platforms, which we're estimating to be somewhere around 8 inches tall, are quite reminiscent of Gaga's preferred shoes of choice during her Monster Ball days, when sky-high heels were her staple. 
According to Vogue, the key to walking in those shoes was walking "from tip of the toe to the back of your heel, flat every single step," model Mari Agory said. Oh, and of course confidence doesn't hurt either. 
So apparently you can take the girl out of the ankle-breaking platforms, but you can't take the ankle-breaking platforms out of the girl.
Get the five stories that will challenge you to rethink the world by signing up for MicCheck Daily.