A 'Mary Poppins' Sequel? Cast, Release Date and What We Know So Far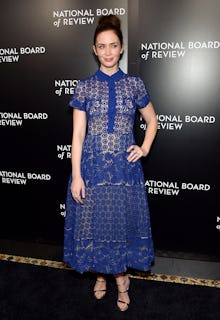 Evan Agostini/AP
Actress Emily Blunt is apparently in talks to star as Mary Poppins in a sequel to the classic Disney film, Variety reported on Thursday. The new film will take place in 1930s London, two decades after the original film, and will feature the return of the magical nanny with the flying umbrella.
The 1964 Mary Poppins, produced by Walt Disney, starred Julie Andrews in the title role and Dick Van Dyke with a cockney accent as her friend and dance partner, Bert. The musical introduced the world to earworm songs such as "A Spoonful of Sugar" and "Supercalifragilisticexpialidocious." 
Read: Ilvermorny Is the North American School of Wizardry, Says JK Rowling
The original Disney film was based on a series of (much darker) children's books by British author P.L. Travers, whose career inspired the 2013 film about Travers' professional relationship with Walt Disney, Saving Mr. Banks.
No release date has yet been set for the project, and Emily Blunt has not yet been officially announced for the Mary Poppins sequel, but Variety reports that Rob Marshall, who worked with Blunt in 2014's Into the Woods, has signed on to direct the new film.
Hopefully Julie Andrews, who won a best actress Oscar at the 37th Academy Awards for her role as Mary Poppins, will give Blunt, or whoever takes over the role, her blessing.