Don Cheadle Had to Hire a White Co-Star to Get Investors to Pay for His Miles Davis Movie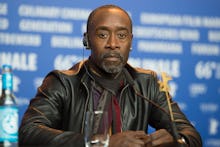 It's hard to get movies financed in Hollywood, but Don Cheadle convinced investors to pay for his new film using a simple trick.
He hired a white guy.
"Having a white actor in this film turned out to be a financial imperative," Cheadle told reporters Thursday at the Berlin Film Festival, where he was screening his upcoming Miles Davis biopic, Miles Ahead.
"There are different metrics by which those who are going to spend money on films determine if it's a good risk or not. ... [And this] was a component of getting to a certain number that would allow us a certain budget to get the film made.
"It's one of the realities of the business we're in," he said, according to Deadline.
Throughout its production, Cheadle struggled to get Miles Ahead financed. The 51-year-old actor and producer has been working on the film for 10 years: co-writing, producing, directing and starring in the project, which will be released in theaters on April 1. 
Despite his remarkable Hollywood pedigree — which includes two Golden Globe Awards, an Academy Award nomination for best actor and an Academy Award for co-producing Crash, which won best picture in 2006 — Cheadle ended up having to raise $370,000 through an Indiegogo crowdsourcing campaign to make up for a gap in funding in 2014, Deadline reported.
Cheadle said other funding he received for the film relied on the hiring of a white co-star — which ended up being Ewan McGregor, the Scottish-born actor who plays Dave Brill, a fictional Rolling Stone journalist, in the movie. 
"It's one of the realities of the business we're in." — Don Cheadle
Cheadle explained it's tough to sell financiers on movies with all-black casts because "there is a lot of apocryphal, not proven evidence that black films don't sell overseas," Deadline reported. He was otherwise more than complimentary toward his white co-star, saying, "I think [the film] works great and particularly because of Ewan McGregor." 
But Cheadle's brutal honesty about the inner-workings of the Hollywood film industry adds fuel to ongoing conversations about racial inequality in media today. The 88th Academy Awards are coming up on Feb. 28. All 20 of the acting nominees are white, and the only nominees who worked on films featuring black characters — including Creed and Straight Outta Compton — are white as well.
The hashtag #OscarsSoWhite started trending online as a result, drawing attention to the disparities in how people of color are treated in the entertainment business for the second year in a row. Daily Show host Trevor Noah recently joked that the only way for black filmmakers to get recognized by the Oscars is "by pandering to white Oscar voters."
Meanwhile, the argument that black actors spell box office poison has repeatedly been disproven. In 2015 Straight Outta Compton became one of only eight films from Universal Pictures to top $200 million at the global box office, and out of the five top-grossing films in the world in 2015, two — Star Wars Episode VII: The Force Awakens and Furious 7 — starred black leads.
According to a yearly report issued by the University of California, Los Angeles, Ralph J. Bunche Center for African-American Studies, of the top 200 movies released in 2012 and 2013, those "with relatively diverse casts enjoyed the highest median global box office receipts and the highest median return on investment." 
Yet here's Cheadle, one of the most respected talents working in movies today, fighting to get his film about arguably the most famous jazz musician of all time financed.
It's time to get woke, Hollywood.