"FloriDada" Lyrics: Meaning Behind Animal Collective Single off New Album 'Painting With'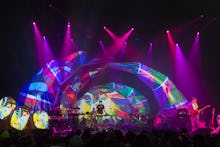 Paul A. Hebert/AP
Modern anti-capitalist art movement Dada was a major influence for Animal Collective's latest album Painting With, released Friday, and the album's single "FloriDada" is a strong example of that influence. The experimental pop band uses socially critical lyrics and a bright, minimalist beat in an ode to Florida that band members said was inspired by outsiders' general hostility toward Floridians.
"I heard a radio show in Los Angeles and they started talking about how the name of the program was 'What All the Dumb Things People Are Doing in Florida Right Now,'" band member Avey Tare, real name David Portner, told Newsweek upon the single's late-2015 release. "I was just like, 'That sucks. Why does everything have to be so negative? Why is everything so 'I'm from the South, you're from the North?'"
Read more: FKA Twigs Releases Gorgeous New Song "Good to Love"
"Get me some grass/ Iridescent shells/ I know there's a nest/ Fit with a hatch/ Sunset a glowin'/ Makes us all sweaty," the sweet, breezy ode to the Sunshine State goes. "Where is the place/ We can extend/ Crooked state lines/ Polka dot signs/ Say that this place is/ A state of mind," the second verse goes, suggesting a unification of state lines that have cause antagonism between people across borders. 
The song's full lyrics are available on Genius. 
The Dada-inspired album is warranting mixed reviews from critics. "Painting With feels, more than anything, like a kind of construction project," Pitchfork's Mike Powell wrote in a 6.2 out of 10 star review. "Each sound meticulously built and only faintly familiar, each second crammed with doodads, as though the band was worried either they or their audience might get bored."
Other critics see the album as an invitation to change perspective. "All of the themes of Painting With converge to form a portrait of togetherness and encourage a shift of perspective," Consequence of Sound's Sean Barry wrote of the album, which he also described as "familiar, comfortable, and fun from the get-go."