Hillary Clinton Has Never Looked So Badass as When She's Being Worn by Anna Wintour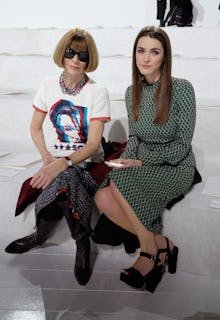 Leave it to Anna Wintour to make Hillary Clinton look cool.
The Vogue editor-in-chief, who has a history of throwing her influential weight (and money) behind Democratic candidates, popped up at the Marc Jacobs show at New York Fashion Week on Thursday wearing a t-shirt (!). In fact, it was what we might call a graphic tee.
Who could get the famously Icy Queen Anna, she of the prim Oscar de la Renta dresses and fur coats, to wear such a casual, youthful ringer tee?
Take a look...
And look even closer...
Can you see it?
Yes, it's #Her.
Wintour was showing her best Clinton support in a Marc Jacobs shirt from the new Made for History collection of Clinton merchandise, now for sale on HillaryClinton.com. So far, designers including Jacobs, Tory Burch and Maxwell Osborne and Dao-Yi Chow of Public School have contributed designs, just as they did back in 2008 and 2012 for the Wintour-supported Runway to Win collection of tees for President Obama's campaigns.
"The Made for History collection is a unique addition to our campaign store and will give our supporters an extraordinary new way to show their enthusiasm for Hillary Clinton and support her campaign for president," Clinton's deputy communications director, Kristina Schake, told Vogue.
Of course, Wintour already has extraordinary ways to show her support. Clinton has a fresh profile and photo spread in this month's Vogue, and Wintour has been throwing her fundraisers since the fall, ostensibly raising thousands if not millions for the Democratic presidential primary candidate. (Back in 2012, Wintour was President Obama's fourth-biggest "bundler," raising $2,682,001 for his re-election campaign via friends and associates.)
But beyond money, what Wintour can try to do is lend Hillary some cool. Inexplicably to some, Bernie Sanders has captured plenty of excitement and energy from young voters and now has an unexpected aura of cool (unexpected given that he's also got a curmudgeonly vibe and, at age 74, is the oldest candidate in the field). 
And with her signature sunglasses on, damn does Wintour make Clinton look cool. In fact, she seems to be channeling Clinton's own coolest moment... 
Those were the days.