Taraji P. Henson's New Movie Is Proof That, for Once, Hollywood Is Listening to Moviegoers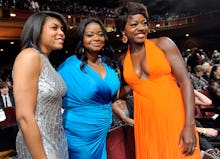 Taraji P. Henson and Octavia Spencer are co-starring in Hidden Figures, a movie about a group of math geniuses, forgotten by history, who assisted in getting the first American in space. The geniuses in question all happen to be black women. If you're looking for the catch, that's understandable.
In developing and casting Hidden Figures, a movie based on true events and author Margot Lee Shetterly's book, director-producer Ted Melfi (St. Vincent) is finally embracing the obvious wisdom: Inclusive movies make more money. Yet for years, Hollywood has willfully ignored numbers, receipts and common sense. Could Hidden Figures be the sign that things are finally changing?
There's something winkingly knowing about this project announcement. Even the name, Hidden Figures, is a bit of a nod at how undervalued people of color — especially women of color — have been in the film industry. Henson and Spencer are both massive stars with a cornucopia of credits split between them, including Oscar nominee and winner, respectively. 
Hidden Figures almost feels like a response to #OscarsSoWhite critics who say the issue isn't really about the Oscars ignoring black performers — it's about the roles Hollywood gives to black performers. Viola Davis espoused this particular idea, echoing what she said in her Emmy acceptance speech. "The only thing that separates women of color from everyone else is opportunity," she said at the time.
Hidden Figures represents those opportunities — roles that go beyond the maid and best-friend roles that black actors have historically been relegated to. These women who helped get a man into space are geniuses. They are real-life heroes forgotten by history. This is a story that demands to be told; if it were about men or white people, it's hard to imagine it wouldn't have been told by now. The figures wouldn't have been hidden in the first place.
That said, one movie is not a sea change. Hollywood needs more projects that push the boundaries for performers of color, like Ava DuVernay's rumored sci-fi project starring Lupita Nyong'o. If that movie indeed comes to fruition, and both films perform well, it will be compelling evidence for why inclusiveness like this works. Yet even if they do, Hollywood won't change overnight.
What's far more important is that these projects show there are some people of color (albeit not enough) getting chances outside of the usual bit parts. The significance: As studies have shown, putting people of color in charge leads to more people of color getting their own opportunities. Every movie matters.
Hidden Figures won't be out until January 2017, but there's plenty of reason to get excited about what's coming. One movie starring black women as strong, intelligent, powerful characters isn't the be-all end-all, but it feels like Hollywood may finally be listening to moviegoers. This is an amazing step toward a more inclusive film industry — and not a moment too soon.