Where Will 'American Horror Story' Season 6 Take Place? 4 Theories on Popular FX Series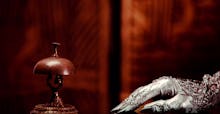 YouTube
It's unsurprising that Ryan Murphy's horror anthology series, American Horror Story, was renewed for a sixth season on FX. The show's creators have kept fans guessing with each season's storyline — all fresh and different from the previous iterations, with a varied set of locations and time periods — starting with the murder house in season one and, most recently, season five's worst hotel you'd never want to stay in.
With the forthcoming sixth season, however, Murphy has kept the details of the series very much under wraps. Of course, the fact hasn't stopped eager fans from stringing together their own theories on the next edition of American Horror Story — no matter how bold. 
Read more: 'The People v. OJ Simpson' Episode 2 Recap: The Juice Is Loose
American Horror Story: Space: Season two of the series had a subplot around alien abductions, so in theory a season centered around aliens wouldn't be out of left field for the show's narrative. In fact, in an October interview with Vulture, American Horror Story regular Evan Peters said he likes the idea of a space-themed season. 
"I keep pitching that it should be in space because I think the contained thing in space is really scary!" Peters told Vulture. "It's not as sexy as some of these past seasons, but space is very intense, and there are a lot of things [that] can go wrong. Alien creatures. People going crazy up there. There's a lot that could happen." 
The only issue with Peters' plan is that Murphy has since shot down the idea, emphasizing during an interview with Entertainment Weekly that the show is not "Intergalactic Horror Story." As such, even though a space backdrop could be a fun, refreshing element for the series, chances are it won't happen if the showrunner himself has rejected the notion. 
American Horror Story: Area 51: Similarly to the AHS: Space concept, Murphy and Co. could have an alien-centric installment of the series, instead set at the mysterious Area 51 in Southern Nevada. He had previously considered Santa Fe, New Mexico, as a possible filming location for season four, before settling on New Orleans. 
The Area 51 theory relates to Santa Fe's proximity to Roswell, New Mexico, which was home to the infamous UFO incident in 1947, which inspired a plethora of alien theories and the concept of government cover-ups for extraterrestrial life (Roswell is also home to a UFO museum). Given the series' affinity for period settings in seasons past, an Area 51 and government-related season set in the '40s wouldn't be out of the realm of possibility. 
American Horror Story: Murder Cult: Broadly, the American Horror Story anthologies have dealt with their fair share of serial killers. However, Murphy has said that he's wanted to focus a season on serial killers — specifically, he thought of Charles Manson for season three. 
"There was a point last year in August where I was like, 'I want to do an entire season about the [Charles] Manson case,'" Murphy said, in an August 2013 interview with Deadline. "But then we decided that wasn't respectful to the victims, and it's really hard to get life rights. So I went to the other idea, which was New Orleans witches that I've always been obsessed with. We might go back to the Manson thing in some regard one day. We spend a lot of time specifically trying to get the look and the tone of it right. Every year has a different tone." 
Though idea was dropped in place of American Horror Story: Coven, Murphy did admit he could go back to it "one day." Perhaps it'll be season six. 
American Horror Story: Slender Man: A more outlandish but popular theory for the next season is a focus on the viral internet sensation, Slender Man. Essentially, the (appropriately) slender character — donning a black suit, tie and a face with no features — stalks children in the woods. The rumors of a Slender Man season came from an unnamed insider in an interview with US Weekly in October.   
"Someone else wrote the script, and AHS wants to adapt it to fit the show," the insider told US Weekly. "They have to buy the rights. Then they're going to figure out the cast from there."  
However, an unnamed source told Entertainment Weekly that the Slender Man concept was "not true," and that the plot details for the forthcoming season will instead be revealed in March. Murphy and Co. shouldn't knock off Slender Man as a story idea, though — he's absolutely terrifying in several video game adaptations of the character. 
Of course, fans won't know the definitive details of season six until Murphy formally announces the plans. However, given how quirky, creepy and disturbing previous seasons have been, season six would likely be another shocking venture.