Don't Airbrush Ronda Rousey's Muscular Arms Unless You Want to Be Called Out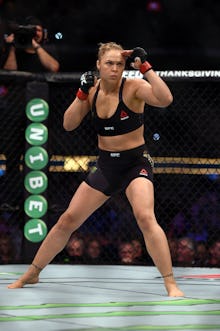 Ronda Rousey may officially be a Sports Illustrated Swimsuit Issue cover girl, but that doesn't mean she's ready to shrink herself into a dainty, tiny, stereotypical model body just to make everyone else happy. 
On Thursday, the Ultimate Fighting Championship women's bantamweight champ posted two photos on Instagram, ostensibly airbrushed and the other not, from her recent appearance on The Tonight Show Starring Jimmy Fallon. 
"I have to make an apology to everyone," she wrote in the caption. "I was sent a picture to share on social for Fallon that was altered without me knowing to make my arms look smaller. I won't say by who — I know it was done with severely misplaced positive intentions — but this goes against everything I believe and I am extremely proud of every inch of my body. And I can assure you all it will never happen again. I could not be more appalled and hope you all forgive me."
It's nothing new for celebrities to call out bad Photoshopping for slimming them down or otherwise altering their images; Kate Winslet has been doing it since long before social media appeared. Even though we're more aware of (and sometimes even OK with) airbrushing than ever, it's still obviously problematic to send a message that a skinnier celeb is better than a slightly curvier one.  
That is especially true of Rousey, whose signature physique isn't even so much about curves as it is about strength. Like Serena Williams, Rousey is known for being fit and muscular, her body not adhering to Victoria's Secret runway norms but rather, well, the norms required for winning UFC titles.
Because of that, also like Williams, Rousey has been criticized for having a more "masculine" body or not looking feminine enough. Fighting those perceptions means fighting centuries of ideas about women's bodies, even ones that persist today as workout clothing is still often sold on lithe, thin models.
But the fighter's got strong words for any critics.
"I think it's hilarious if people say that my body looks masculine, or something like that," she said in a July 2015 interview for UFC's Embedded series. "I think it's femininely badass as fuck, because there's not a single muscle on my body that isn't for a purpose."
And if you try to airbrush out those muscles? You can be sure it won't go unnoticed. 
h/t the Cut