Chrissy Teigen Just Revealed She Got IVF During Her "Sports Illustrated" Shoot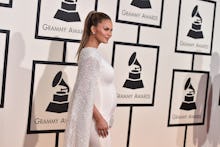 Model and professional truth bomb-dropper Chrissy Teigen has been candid about her struggle to get pregnant with her husband, R&B artist John Legend. Now, she's taking a stand for women who have turned to modern medicine to aid them in their quest to start a family by opening up about the in-vitro fertilization (IVF) process. 
In an interview with People about her Sports Illustrated swimsuit cover, Teigen revealed that she was actually in the process of conceiving during her shoot. 
"I was doing IVF during the shoot," Teigen, who is expected to give birth in April, told the magazine. "I was getting my shots and everything in Zanzibar, I had a little medical kit. It was hard because you bloat from it, and you bruise — if I hit the wrong area. That's the kind of things we had to cover with makeup."
So basically, Chrissy Teigen got needle injections in her abdomen whilst simultaneously frolicking on an East African beach in a thong. You see, ladies?!?! Women truly can have it all. 
By opening up about her experience behind the scenes of her Sports Illustrated shoot, Teigen wasn't just lifting the curtain on one of the most anticipated photo spreads of the year. She was also doing her part to spread awareness about IVF, a procedure that accounts for roughly 1.5% of the number of babies born in the United States in a year, according to 2012 data from the Society for Assisted Reproductive Technology. 
A fertility treatment that involves injecting sperm into the egg with the needle, IVF is one of the most common assisted reproductive methods for women of childbearing age, with over 61,000 babies born via IVF in 2012. 
Although women have traditionally shied away from speaking openly about the procedure, due in large part to the stigma associated with talking about pregnancy struggles, women are increasingly opening up receiving IVF treatments, including celebrities like Brooke Shields and Kim Kardashian, who was filmed receiving the treatments on Keeping Up With the Kardashians. 
"I didn't know that I was going to be so open with [my fertility challenges]," Kardashian told Glamour in 2015. "But meeting people at my fertility doctor's office who are going through the same things I'm going through, I thought, 'Why not share my story?'"
Teigen has also been remarkably forthcoming about her struggles to conceive with her husband. On an episode of Tyra Banks' recently cancelled show FABLife, Teigen candidly said, "I will say honestly, John and I are having trouble. We would have kids five, six years ago if it'd happened. But my gosh, it's been a process." 
IVF isn't cheap (a "fresh" cycle of treatments can cost about $12,000) nor is it foolproof: For women who are under the age of 35, as Teigen is, the success rate is about 41% to 43%, with that number diminishing as women get older. Yet by speaking openly about her experience with the procedure and her years-long struggle to get pregnant, Teigen is shining light on a reality of modern motherhood that is rarely openly discussed. 
h/t People