Harper Lee Dies at Age 89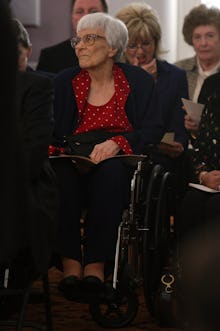 Harper Lee has died in her hometown of Monroeville, Alabama, according to Alabama news site AL.com. Her publisher HarperCollins confirmed the news, according to the New York Times. She was 89.
The author was born in Monroeville in 1926, moving to New York in the late 1940s. There, she found publishers interested in a reworked version of To Kill a Mockingbird — which was released in 1960 to critical acclaim, eventually winning a Pulitzer Prize and becoming a beloved American novel.
For a time, the novel about lawyer Atticus Finch was the author's only book. However, the author resurfaced in the news last year when a spiritual sequel, titled Go Set a Watchman, was found among Lee's belongings and published.
Go Set a Watchman proved to be as controversial as To Kill a Mockingbird was beloved, particularly because the character of Atticus Finch was a racist in the sequel. There were questions about whether Lee was in proper condition to consent to the publication of Go Set a Watchman. (An investigation into her situation closed last May with no findings of elder abuse.) 
Lee suffered a stroke in 2007 and made rare public appearances afterward. As the New York Times described her, she was "a literary [Greta] Garbo, a recluse whose public appearances to accept an award or an honorary degree counted as important news simply because of their rarity." She made one last public appearance ahead of Go Set a Watchman's release in 2015.