11 Harper Lee Quotes That Serve as Timeless Life Lessons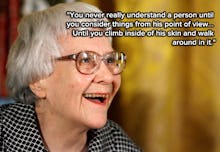 Pulitzer Prize-winning To Kill a Mockingbird author Nelle Harper Lee died Friday at age 89 in her Monroeville, Alabama home, multiple sources confirmed Friday. The author had returned to her hometown from New York after she had a stroke in 2007. Here are 11 quotes to remember her by. 
Lee carefully guarded her private life and therefore rarely did interviews or gave speeches, but her words in To Kill a Mockingbird and a few public interviews serve as a window to her character and wisdom that will be remembered along with her legend. 
These 11 Harper Lee quotes serve as timeless lessons on perspective, humanity, courage and more:
1. "You never really understand a person until you consider things from his point of view... Until you climb inside of his skin and walk around in it." — Harper Lee, To Kill a Mockingbird
2. "Any writer worth his salt writes to please himself ... It's a self-exploratory operation that is endless. An exorcism of not necessarily his demon, but of his divine discontent." — Harper Lee, a 1964 interview
3. "Until I feared I would lose it, I never loved to read. One does not love breathing." — Harper Lee, To Kill a Mockingbird
4. "People generally see what they look for, and hear what they listen for." — Harper Lee, To Kill a Mockingbird
5. "Atticus, he was real nice."
"Most people are, Scout, when you finally see them." — Harper Lee, To Kill a Mockingbird 
6. "As you grow up, always tell the truth, do no harm to others, and don't think you are the most important being on earth." — a 2006 letter to an eight year-old boy
7. "People in their right minds never take pride in their talents." — Harper Lee, To Kill a Mockingbird
8. "It was times like these when I thought my father, who hated guns and had never been to any wars, was the bravest man who ever lived." — Harper Lee, To Kill a Mockingbird
9. "Real courage is when you know you're licked before you begin, but you begin anyway and see it through no matter what." — Harper Lee, To Kill a Mockingbird
10. "It's never an insult to be called what somebody thinks is a bad name. It just shows you how poor that person is, it doesn't hurt you." — Harper Lee, To Kill a Mockingbird
11. "Prejudice, a dirty word, and faith, a clean one, have something in common: they both begin where reason ends." — Harper Lee, Go Set a Watchman