Harper Lee Unpublished Book: After Author's Death, Questions Remain About Rumored New Work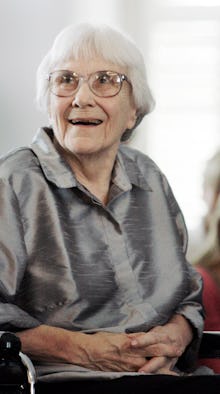 Rob Carr/AP
To Kill a Mockingbird, heralded as an American classic, may be the late Harper Lee's best-known work of fiction, but it's not the first book she authored. According to her biography, the first book Lee authored was Go Set a Watchman, though the book wasn't published until 2015. And it's rumored there's other material from the Pulitzer Prize-winning author that remains unpublished. 
In a Wall Street Journal op-ed in July, Lee's attorney, Tonja Carter, shared knowledge of the handling of some of Lee's business affairs, which led to an event that unfurled in August 2014. In the op-ed, titled "How I Found the Harper Lee Manuscript," Carter describes just that. Supposedly, next to the manuscript for Go Set a Watchman, Carter says she also may have stumbled upon a third script of a Lee novel that remains unpublished.
Flipping through a stack of pages she found tucked away in a Lord & Taylor box that belonged to Lee, Carter describes her reaction. "I began to thumb through its contents when I came across a title page that said: 'Go Set a Watchman,' Harper Lee, York Avenue, New York, New York," Carter wrote in the op-ed. "I read enough of the first page to know this was not To Kill a Mockingbird. It opens with Scout, all grown up, returning to Alabama by train from her home in New York City. I thought the Watchman manuscript could have been the sequel to Mockingbird." 
"And something else was in the Lord & Taylor box," Carter continues. "The manuscript for Watchman was underneath a stack of a significant number of pages of another typed text."
Much has been said about Lee's sophomore-published book, and many have speculated whether it was undertaken as a standalone novel or was in some shape or form a draft of what Lee eventually molded into To Kill a Mockingbird. Yet the truth about Go Set a Watchman and what novel, if any, the remaining pages in the Lord & Taylor box amount to remains unknown.
"What of the other pages that have for decades sat in the Lord & Taylor box on top of Watchman?" Carter wrote in the op-ed. "Was it an earlier draft of Watchman, or of Mockingbird, or even, as early correspondence indicates it might be, a third book bridging the two? I don't know."
Lee died on Friday at the age of 89, multiple sources in Lee's hometown of Monroeville, Alabama, reported, according to the Guardian. At the time of her death, Lee resided at an assisted-living facility, where she moved after a stroke in 2007, according to her biography. Lee, or Nelle to her friends and family, is best known for her iconic 1960 fiction To Kill a Mockingbird, the characters of which — Boo Radley, Atticus and Scout Finch — will live on in the memory of many fans familiar with the work.
Despite lingering mysteries, one thing is certain — for what she has published, Lee's memory has already been cemented in the annals of history.