Rapper Dee-1 Paid Off His Student Debt and Now He's Celebrating With This Music Video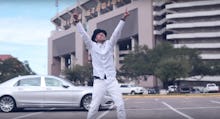 Ah, yes, the unmitigated joy of finally paying off your student loans. 
Granted, most of us probably aren't yet familiar with that feeling (and apparently won't be until we're about 41). 
But we can at least be happy for New Orleans rapper Dee-1, who just finished paying back his loans to Sallie Mae using the advance he got on a record deal. To celebrate, he posted a music video to Facebook last week called "Sallie Mae Back."
Read more: It's Official: The Class of 2015 Has the Most Student Loan Debt in History
The video opens with a financial aid officer giving a familiar spiel to students lined up in a hallway: "I need your FAFSA paperwork, I need your parents' tax information from 2015, 2014, 2013, a non-refundable check." 
But before he can finish Dee-1 chimes in, announcing, "I finished! I finished!" while throwing dollar bills in the air.
"No, sir, I don't drive a Maybach — but guess what I did? I finished paying Sallie Mae back!"
He goes on to rap a laundry list to which any student loan debtor can relate: those endless Sallie Mae calls, the late payments and that plunging credit score.
But then he gets a different sort of communication from the private lender: an email with a message congratulating him on wiping his debt clean.
"I took a screenshot, boy. I had to save that. Then I hit my homeboy like, 'I finished paying Sallie Mae back!'"
At the end, Dee-1 returns his leased Maybach to the dealership — because talent, plus a record deal, minus exorbitant student loans doesn't necessarily equal a super luxe car.
On YouTube, commenters said they were heartened by Dee-1's song: 
"I'm debt free as of 2/12; this video came out one day earlier," wrote one commenter. "This is now my victory song. Congrats if you're debt free, keep on it if you're not. There is light at the end of the tunnel."
One woman commented that she would play the video for her husband once he's done paying off his own loans.
And another: "Watched this in my college readiness class today, got everyone hype about applying for scholarships and making sure we'll get to say 'I'm finished' when we pay future college costs off."
And how sweet it will be.