Women Are Tweeting to #SupportThePuff After Girl Suspended for Her Natural Hair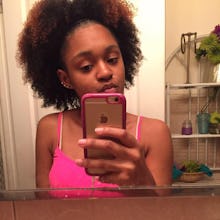 Don't educators have enough on their plates (what with, for example, proposed legislation that would allow students to carry guns in schools) to focus on matters as trivial as students' natural, God-given hair? 
Sadly, not. But at least we have Twitter, Instagram and #SupportThePuff.
Read more: This Eighth Grader Was Called to the Principal's Office for Her "Too Poofy" Hair
The hashtag has taken root (heh) in the weeks since Tayjha Deleveaux, a student at C.R. Walker Senior High School in Nassau, Bahamas, was allegedly suspended from school with several other girls earlier this month. Tayjha's mother, Turkessa Deleveaux, took to Facebook to air her grievances, asking the question on most of our minds: What could possibly be so wrong with this hairstyle?
The girls' grave misdeed? The school's principal, T. Nicola McKay, said in an interview with NB12 News it was because their hair looked "untidy, ungroomed, unkempt, and it looks like it would not have been combed for days."
This is rather head-scratching, so to speak, considering that many would argue that Deleveaux's natural hair is groomed and neat.
And since when do high school administrators think they have a seat on Fashion Police?  
The Ministry of Education released a statement on Sunday saying, "[We] appreciate the natural and cultural heritage of the Bahamas and of the responsibility of the educational process to reflect and respond to that cultural heritage with tolerance and understanding," adding that it hopes that soon, "the matter will be amicably resolved."
In the meantime, the issue has touched a nerve. 
Though Deleveaux says she was humiliated by the ordeal, she refuses to back down. "This is my hair, this is how I fix it, there are no school infractions about it," she told journalist Ianthia Smith. "I still have my puff at the top of my head. I am not getting rid of my puff anytime soon."
She's not alone. Angolan model Maria Borges brought her natural hair to November's Victoria's Secret Fashion Show. Another model, Mala Bryan, created a line of black dolls with natural hair. Now, people from all over the world are joining the case, taking to social media to not only offer their support to Deleveaux, but to begin a movement they're calling #SupportThePuff.
#To this end, young women have always been free to attend school with their hair in its natural state provided it is properly groomed and neat.To this end, young women have always been free to attend school with their hair in its natural state provided it is properly groomed and neat.Unbothered throughout this mess, Tayja is fighting back. Though she admits that her principal made her feel less than beautiful, she's refusing to alter her appearance,Tajya is fighting back, 
A petition has also been started in support of Deleveaux and her classmates. The page encourages potential voters "to consider the damaging effects of telling our precious darlings that in the year 2016, their hair is not good enough to be worn naturally." The petition has garnered more than 1,000 signatures.
Let's hope this outcry sparks a conversation about educators' roles in disciplining students for the crime of being who they are.
h/t Cosmopolitan