Movies That Won Best Picture at the Oscars — But Clearly Shouldn't Have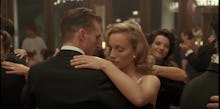 Mic/YouTube
The Academy Awards certainly aren't safe from controversy — especially in the past two years. Clearly, the Academy has a lot of work ahead of it to improve the inclusiveness of its nominee and winner pools. However, another important element of the process the Academy needs to get straight is picking the right winners, especially for its most coveted award: best picture. 
Naturally, the films being nominated for best picture are good, to some extent. The list of nominees is small, even considering recent rule changes adding more contenders. Moreover, film is ultimately a subjective medium, so a best picture winner is never universally praised. Last year, winner Birdman faced criticism from those who noted Boyhood should have won instead. 
Yet some best picture winners — and the notable snubs for a particular year — are more damning for the Academy than others. Even with their respective merits, these six films shouldn't have captured the Oscars' biggest prize. 
Read more: 10 Years Ago, the Oscars Made Their Worst Best Picture Choice Ever: 'Crash' 
The English Patient: While The English Patient is a fine romantic drama in its own right, it's also a film that's been ridiculed for how boring it is. Case in point: Seinfeld dedicated an entire episode to Elaine (played by Julia Louis-Dreyfus) being confused with everyone's love for The English Patient. She thinks it absolutely stinks. 
Furthermore, The English Patient won its Oscar in the same year that Fargo was nominated — a movie so iconic it currently has a spinoff series on FX and has been added to the National Film Registry for preservation. The English Patient was a good film, but hardly as memorable. 
The King's Speech: The King's Speech is another film that can holds its own, especially considering its central Oscar-winning performance by Colin Firth and his strong chemistry with Geoffrey Rush. Yet the subject matter boils down to speech therapy for a royal subject. That same year (2011), it paled in comparison to the more bold, imaginative films produced and nominated at the Academy Awards. 
Most notably, David Fincher's dramatization of the creation of Facebook by Mark Zuckerberg in The Social Network, with a compelling screenplay by Aaron Sorkin, was up in the same category. Its loss is perhaps ascribable to the fact that The King's Speech is more friendly subject matter for Academy voters. Their median age is 63, and thus may have on average been less attuned to social media than younger filmgoers. 
Crash: When the director himself has said, in retrospect, he doesn't believe his film should have won best picture, you know the academy screwed up. Yet Crash did win over the likes of the critically beloved and emotionally complex Brokeback Mountain — even though its many plot holes look even worse a decade later. 
"More than anything, Crash just doesn't actually say anything," Mic's Kevin O'Keeffe wrote in honor of the 10th anniversary of the film's best picture win. "It's a group of blunt observations and manufactured stories that, put together, lead to no clear conclusion. 'Racism exists'? Cool, that was pretty well-known before Crash. 'Racism is bad'? Also good to know, but not particularly novel. The film reveals nothing new or interesting, let alone moving, about the human experience. It's a thoroughly bad movie." 
Forrest Gump: While Forrest Gump boasts a strong lead performance by Tom Hanks — and iconic enough to create a themed chain restaurant in its likeness — the impressive nominees for the 1995 Oscars hinder this film in hindsight. Yes, it's a sentimental movie, and it will be considered a classic, but the likes of Pulp Fiction and The Shawshank Redemption were both nominated at the same awards show. 
At their core, all three are important and memorable films. Yet the complex relationship between Andy (Tim Robbins) and Ellis (Morgan Freeman) in The Shawshank Redemption is far more emotionally moving than Gump's many encounters in the Oscar-winning film. 
Shakespeare in Love: Romantic comedies don't deserve to be shunned from the best picture conversation. Yet when a romantic, fictitious period piece on William Shakespeare — literally called Shakespeare in Love — takes a best picture win over one of the best war films ever made in Saving Private Ryan, it's a dubious call.
Shakespeare in Love does boast good chemistry between its leads, but when the film intentionally imitates and resembles Romeo and Juliet, it's difficult to appreciate it more than a Steven Spielberg masterpiece. 
How Green Was My Valley: Chances are you probably haven't heard of the 1942 Oscar winner, How Green Was My Valley. In fact, one of the only reasons you might recognize the title is because its win came at the price of the greatest films ever produced: Citizen Kane. Even decades later, Citizen Kane still captivates critics and viewers in the same way it did on its initial release — and is hands down the Oscars' biggest best picture snub of all time.  
"Fifty years later, it is as fresh, as provoking, as entertaining, as funny, as sad, as brilliant as it ever was," the late Roger Ebert wrote in 1991. "Many agree it is the greatest film of all time. Those who differ cannot seem to agree on their candidate."