The 5 Best Apps and Sites for Finding Roommates You Won't Want to Hate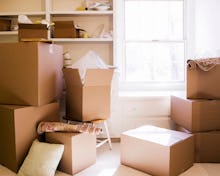 Nicolas Huk/Flickr
If hunting for a roommate has left you waking up in the middle of the night from Craigslist-induced nightmares, you're not alone. Thankfully, the creation of several apps and websites can help you find the perfect — or at least close enough — roommate. After all, if you can find romantic partners on a smartphone app, why not try to find a roommate through one too? 
Now more than ever before, more people aged 25 to 34 years are living with roommates rather than alone — at a rate of 7.4%, Forbes reported. This could be due to lower wages, higher rates of unemployment and higher rates of student debt. 
Read more: Why Having a Roommate is the Ultimate Sign That You're An Adult
But as most people have learned the hard way, you can't just shack up with anybody. Research has found that your roommate might have an influence on your own mood and mental health, so it's important to live with people you can get along with. 
Below are five apps and websites to help you filter out the roommate with (hopefully) the most compatible traits for you:
Symbi covers all the basics of roommate hunting: someone looking for someone else to apartment-hunt with, someone looking for an open room and someone looking to fill an open room — but only in New York. Like a dating website, Symbi can link up with Facebook and gathers all the basic information from you, such as if you're a smoker, a night owl or clean freak. The interface is simple, and users get to rate and then message each other.
Roomie Match is a service where actual breathing human beings review every single profile so that you can breathe (just a little bit) easier. You can choose from either a matchmaking style, in which the company will email your top matches right to you for a small fee, or for no cost, you can just be inputted in the system and wait for potential roommates to reach out to you. 
Diggz is another New York-based roommate-finding site that uses an algorithm to match you with 10 people who fit your inputted criteria. 
As a roommate-finding veteran, Roomster works in over 192 countries with over four million users. Verified users can reach out to each other's email, phone or social networking sites like Facebook or Twitter. 
Think of the app Roomi as a Tinder for roommates. Not only are listings verified, but you can send messages over the app without revealing your personal email. There are also filters to help you find your ideal living situation.