'Friends' "Reunion" — Time, Cast and How to Watch the Gang Get Back Together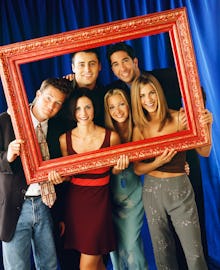 NBC/Getty Images
Friends fans were in a frenzy back in January when it was announced that the cast of the beloved '90s sitcom would be reuniting for a two-hour NBC special in February — Sadly, however, the excitement was a little misplaced. 
The cast (not the characters) of Friends will be together again for a special honoring TV comedy director James Burrows, whose long career includes directing the pilot episode of Friends. The special, titled "Must-See TV: An All-Star Tribute to James Burrows," will air on NBC on Sunday, Feb. 21 from 9 p.m to 11 p.m. Eastern.
Read: The Oscars' Decision to Diversify Membership Is Groundbreaking, Shocking and Necessary
According to the network, Jennifer Aniston, Courteney Cox, Lisa Kudrow, Matt LeBlanc and David Schwimmer will all be in attendance, but Matthew Perry will appear only in a "pre-taped segment."
A representative for Perry said, in a statement, that "Matthew will not be attending as he is in London in rehearsals for his play, The End of Longing, which begins previews on Feb. 2 at the playhouse Theatre," reported Time.
That means that fans of the show will have to wait just a little bit longer to see all their favorite friends under the same roof again — and a full-fledged reunion featuring Joey, Chandler, Ross, Rachel, Monica and Phoebe may never come to pass. In April, when asked about the possibility of a Friends reunion, Courteney Cox told Yahoo, "Dear lord, people, let it go! We're not doing it."