Why Kesha Can't Escape Her Contract With Producer Dr. Luke Amid Rape Allegations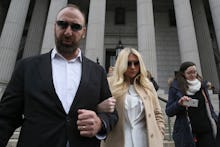 Mary Altaffer/AP
On Friday, New York Supreme Court Justice Shirley Kornreich determined that for now, singer Kesha Rose Sebert cannot prematurely edit or end her six-record-long contract with songwriter-producer Lukasz "Dr. Luke" Gottwald, the Hollywood Reporter reported Friday. The ruling is in light of the yearslong sexual and psychological abuse allegations that Kesha has made against Dr. Luke, including contentions that he drugged and raped her, threatened her, forced her to take drugs and withheld profits from her.
"You're asking the court to decimate a contract that was heavily negotiated and typical for the industry," Kornreich told Kesha's attorney Mark Geragos, according to the Hollywood Reporter. The judge added that her "instinct is to do the commercially reasonable thing."
Read more: The Internet's Response to Kesha's Abuse Allegations Is Everything Wrong With Rape Culture
Kesha's attorney argued that pop stars generally have short lifespans, meaning that denying the preliminary injunction to record free of Dr. Luke could ruin her career. 
"If you're going to sign to a major label, then you're going to sign to terms that are in their favor," Jeff Rabhan, chair of the Clive Davis Institute of Recorded Music at New York University and an artist manager, told Mic in November. 
Dr. Luke and his attorneys have argued that Kesha is trying to extort him to break away from his Kemosabe Records. Dr. Luke has denied the sexual abuse allegations, the Hollywood Reporter reported. 
Kesha began working with Dr. Luke in 2005. The producer has long touted himself as having essentially launched her career and was the driving force behind some of her biggest hits, including "Die Young" and "Timber," the Hollywood Reporter reported in 2014. Before the allegations, a 2013 New Yorker profile of Dr. Luke referenced reports he said Kesha was "proving hard to control." Around that time, Kesha checked into rehab. 
After Kesha sued Dr. Luke in 2014, Dr. Luke countersued for defamation and alleged breach of contract, claiming Kesha was "publishing false and shocking accusations" as a tactic to get out of the contract, according to the Hollywood Reporter.
After calling the singer's claims vague, Kornreich decided not to rule against dismissing the motions, which means Kesha could file an amended version.
Many of Kesha's fans remain outraged. Some protested outside the Manhattan Supreme Court building Friday; many others posted to Twitter with the trending hashtag #FreeKesha. One fan compared the music industry to "corporate slavery," and others called the case an example of rape culture being taken too lightly.