Watch Drake and Rihanna in an Early Preview of the "Work" Video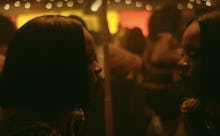 YouTube
On Friday, Rihanna gave fans an end-of-the-week gift in the form of a 15-second teaser. The clip is a preview of the music video for "Work," which features the signature vocal stylings of Rihanna and lives on the Barbadian powerhouse recording artist's most recent album, Anti. The full music video is expected to be released on Monday, according to a tweet from the artist that announced the teaser. 
Read more: Rihanna's 'Anti' Is for Herself and No One Else
In the interim before Monday's release, fans have been afforded a quick peak into the dreamscape that is the visual accompaniment to "Work." During the preview, we see a ruckus of a dance party, high-spirited revelry and, of course, the lovely artist herself giving it her all on the dance floor. Spoiler alert: Drake makes an appearance, and the Canadian rapper awesomely lacks all restraint. At first glance the clip proves at least two things: Monday's release will be worth your time and, evidently, Drake and Rihanna have great chemistry.
Prior to Anti's release, "Work," was the only single that Rihanna made available. Rihanna will be hitting the road to support her most recent release, though the singer recently rescheduled eight of her tour dates, according to Billboard, following her absence from the Grammy stage due to bronchitis. For updates, the world tour schedule and ticket purchase options, head here.
Here's the teaser that just made the weekend an anticipation-filled affair: