Azealia Banks' New Song "The Big Big Beat" Is the Bouncy, Addictive Dance Track We Needed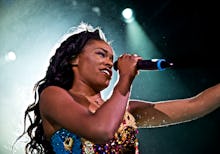 Robert Altman/AP
Rapper Azealia Banks dropped a brand new song on her SoundCloud page Friday titled "The Big Big Beat," a hyped-up dance track with a heavy beat and some fun vocals on the chorus. The track dropped as fans were eagerly awaiting Banks' upcoming album, Fantasea 2, a follow-up to her 2012 mixtape Fantasea. 
Read: The Secret Meaning Behind Coldplay, Bruno Mars and Beyoncé's Halftime Performance
Source: Soundcloud
Banks said in a 2015 interview with SiriusXM Entertainment that Fantasea 2 would have a "deep, dark energy," and would be released as a double disc, including some songs previously released in Fantasea, BET reported.
In January, Banks tweeted about a potential new mixtape, saying "Slay-Z is def next up." It's not yet clear whether her new track, "The Big Big Beat," will appear on an upcoming mixtape.
The rapper was in and out of the news in recent months for a series of controversies, including being caught using a homophobic slur, calling the LGBT community "weaklings" on Twitter and defending real estate mogul and Republican presidential candidate Donald Trump's controversial views on immigration.
Correction: Feb. 22, 2016