Watch the "World's Faster Stoner" Completely Fail to Qualify For the 2016 Olympic Marathon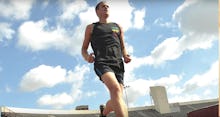 Many people are stoners. But only one has the unique honor of being able to claim the title of the world's fastest. That honor — by his own declaration — belongs to Chris Barnicle.
The power of THC, however, was not enough to power the former college All-American to victory in the Olympic Marathon Trials in Los Angeles on Saturday, where Barnicle, 28, finished last with a time of 3:45:34, NPR reported. 
Read more: 9 Reasons We Should Never, Never, Never, Ever Legalize Marijuana
In fairness, NPR noted that for recreational runners, any time under four hours is respectable but that for top-tier athletes, anything over three is a "massive failure." Even finishing 105th of 105 runners was a struggle for Barnicle, who proceeding in fits and starts — including a fall at the 22-mile mark.
"It was a tough day, but at the same time, it was a really, really special day," Barnicle told FloTrack. "There were medics coming by and asking me if I needed to drop off — I feel like they were almost suggesting that I do it — but for me, I had to do it. I've dropped out of some races before, and I know there's no worse feeling in the world."
Barnicle has long been adamant that regular consumption of marijuana-infused edibles has benefited his running game. But his spectacularly poor showing on Saturday might suggest otherwise. 
Barnicle was mum on whether he had ingested THC on the day of the race, telling FloTrack, "I really don't feel one way or another about what my race says about marijuana and running. The one thing that I can say for sure is that when I don't have THC in my brain, I can get very anxious and very worried." 
According to FloTrack, Barnicle's finish was worse than any Olympic marathon competitor since at least 2000 and significantly slower than the women's last place finisher, Joanna Zeiger, who ran the race while recovering from rib surgery.
Watch a clip of Barnicle running — slowly — here: