Hillary Clinton Prevails Over Bernie Sanders in Nevada Caucuses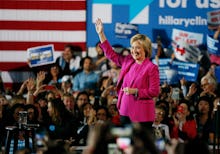 Fending off an unexpectedly strong challenge from Bernie Sanders, Democratic presidential frontrunner Hillary Clinton notched a narrow but momentum-building victory in the Nevada caucuses on Saturday, averting a second consecutive loss to the progressive insurgent and boosting her campaign's hopes that the tide will turn in her favor as Democrats in demographically diverse states have their say. 
The Associated Press called the race for Clinton at 5:15 p.m. Eastern, following early election returns that showed an extremely tight race between the two candidates. As of 5:30 p.m., Clinton was leading 52.3% to 47.7% with 67% of precincts reporting results.
Clinton rode to victory on her support among older voters, as well as Democrats who said they want to continue President Barack Obama's policies. According to entrance polling, she defeated Sanders 64% to 32% among caucusgoers over 45, who accounted for nearly two-thirds of the turnout. 
Read more:  
Meanwhile, she bested the senator 72% to 25% among those who want the next president to carry on Obama's legacy; such caucusgoers accounted for 49% of the turnout, while 41% wanted a more liberal president. Cognizant that Obama remains overwhelmingly popular with Democratic voters, Clinton has hammered Sanders for his insufficient loyalty to Obama.
Resetting the narrative: Clinton's victory comes less than two weeks after Sanders trounced her by 22 percentage points in New Hampshire, winning across demographic groups and raising renewed doubts about the aura of inevitability that long surrounded Clinton's candidacy.
The test for Sanders, though, was whether he could parlay his near-upset in the Iowa caucuses and his Granite State rout into support in more multiethnic states. Even as Sanders gained on Clinton in the polls, the former secretary of state retained an overwhelming advantage among African-Americans and Hispanics.
Should Sanders fail to make inroads with nonwhite voters, his hopes of defeating Clinton for the Democratic nomination will be dashed.
Nevada — once seen as the outer layer of Clinton's post-New Hampshire "firewall," with a population that's only 51.5% non-Hispanic white — offered Sanders an early opportunity to demonstrate that he could broaden his appeal.  Entrance polling gave Sanders a 54% to 43% lead among Nevada's Latinos, which seemed to portend ill for Clinton, but her victory casts doubt on the reliability of those figures.
Hard hit by the housing crash and the Great Recession, the Silver State offered fertile ground for Sanders' message of combatting economic inequality and taking on big banks. 
Sensing opportunity, his campaign opened 11 field offices in the state — four more than Clinton's campaign boasted — although Sanders didn't start hiring staff there until October, four months after Clinton's team was on the ground. Clinton also had extensive experience in the state dating to her 2008 presidential bid, when she defeated then-Sen. Barack Obama in the popular vote but fell short in the delegate count.
Sanders was undaunted. Until recently, he was outspending Clinton on Nevada's airwaves, although she outpaced him in the days leading up to the caucuses.
Sanders' organizing efforts in Nevada — and his increased visibility after his robust performance in the first two nominating contests — barreled him to contention in the state. While pre-caucus polling was sparse, the most recent surveys showed an effectively tied race.
The road ahead: In coming up short, Sanders' campaign has hardly sustained a mortal blow. For starters, Nevada accounts for only 35 of the 4,051 pledged delegates to the Democratic convention. And this is a state, after all, where Sanders trailed by double digits just a few months ago. That he was even in contention underscores the improbable strength of the democratic socialist's campaign.
Still, Sanders' loss raises anew the question of whether he can muster sufficient support among minority voters. Moreover, Clinton's victory suggests that Sanders will have difficulty parachuting into states where she has spent decades cultivating relationships with voters and party elites.
Nevada may now mark the beginning of a winning streak for Clinton: She's dominating the polls in South Carolina, where Democrats vote on Feb. 27. And according to Public Policy Polling, she leads Sanders in 10 of 12 states that vote in early March, thanks in large measure to her strength with minorities.