Donald Trump Rolls to Victory in South Carolina Republican Primary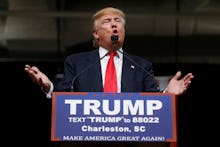 COLUMBIA, S.C. — Donald Trump clocked a commanding primary win in South Carolina on Saturday, moving a step closer to becoming the Republican Party's 2016 nominee for president. 
Just ahead of the South Carolina contest, Trump had a cushy double-digit lead over his closest rivals, Ted Cruz and Marco Rubio, who were dogfighting for second place. The Associated Press projected a Trump victory at 7:29 p.m. Eastern, just a half hour after polls closed. He was leading with about 33% of the vote when the AP called the race.
Trump came into the Palmetto State fresh off a decisive victory in the Feb. 9 New Hampshire primary, where he won more than 35% of the GOP vote. That win marked a reversal of fortune for the headline-grabbing Manhattan mogul, who days earlier tasted defeat in the Iowa caucuses. In that first official test of Trump's presidential prospects, Cruz outflanked him with a superior ground game and a concerted appeal to the right flank of the party.
In carrying South Carolina, Trump scored more than just delegates. He arguably won a cudgel he can use to beat down those who've said his populist bluster could not — or should not — catapult him to the nomination.
Fear and loathing: Trump's unapologetically jingoistic "Make America Great Again" messaging played directly to the anxieties and anger of South Carolinians facing bleak financial prospects, who are eager to punish the political elite as a result.
Despite his own wealth or maybe because of it, polling consistently shows the big-city billionaire connecting with working class whites. These voters make up a significant chunk of the GOP base. They are more likely than their college-educated peers to have trouble finding lucrative work (and to believe the immigrants Trump often targets are part of the problem).
ABC News reported "record turnout by conservatives and evangelicals" in a primary marked, per early exit polling, by "vast support" for Trump's push to limit the ability of Muslims to enter the United States, as well as "substantial backing for deportation of undocumented immigrants."
Rep. Mark Sanford, the former governor who ended up backing Cruz in the primary, told Mic in the run-up to the vote that the decline of the textile industry, once "king in South Carolina," has hit hard.
"Those jobs have gone, and some of the people got a great job with BMW or one of the other high-end manufacturing companies, [but] many people didn't — and as a consequence, those people who are left behind are really uncertain about what comes next for them economically," Sanford said. 
"That's what Trump is really tapping into."
Rocky road: Trump's path to Saturday's win did involve a few speed bumps.
At a debate in Greenville, South Carolina, a week prior to the vote, the former reality show star was repeatedly booed by the audience. Trump earned some of the night's most negative reactions with a blistering attack on rival Jeb Bush's brother, former President George W. Bush, who remains a popular figure here in the Palmetto State.
That wasn't all. Trump lashed out at the Vatican after reports that Pope Francis, asked about the GOP frontrunner's vow to oversee the construction of a U.S.-Mexico border wall to quell illegal immigration, had said anyone who'd espouse such a plan was "not Christian."
That episode, as with countless others that might wound another candidate, ended up being no big deal for the frontrunner ahead of the Saturday primary. A papal spokesman later emphasized the pontiff wasn't specifically talking about Trump. His foes avoided making it a line of attack. And while South Carolina voters are deeply religious and overwhelmingly Christian, few identify as Catholics.
On the horizon: The first big contests completed, Trump and his Republican foes face a gauntlet of primaries over the next two weeks. Notably, delegate-rich Texas and Georgia vote with a slew of other states on Super Tuesday, March 1, followed by Florida, Ohio and Illinois in another big wave of competitions on March 15.
South Carolina doesn't seal the deal for Trump. It does add fresh momentum and legitimacy to a campaign that his critics, as he loves to remind them, once laughed off as a total non-starter.
Trump's win will also amplify months of chatter about galvanizing GOP tastemakers to go all in on a relentless, well-funded drive to stop him. In this most unusual of election cycles, it's quite possible they're already too late.