Rubio Beats Cruz in South Carolina GOP Primary, Setting up Showdown With Trump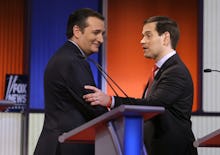 COLUMBIA, S.C. — Donald Trump may have won the Palmetto State, but Texas Sen. Ted Cruz and Florida Sen. Marco Rubio fought the real civil war in this Republican presidential primary.
Rubio overcame Cruz in a battle royale for the second-place finish each man badly needed to frame himself as the GOP's best hope of a Trump takedown. The unofficial results showed Rubio taking 22.5% of the vote over Cruz' 22.3%, a narrow margin that sets up a three-man race between Rubio, Cruz and Trump as the campaign turns to the Nevada caucuses on Tuesday and Super Tuesday on March 1. Rubio and Cruz are likely to continue splitting the anti-Trump vote, which has so far allowed the real estate magnate to solidify his support and emerge victorious in two of the first three nominating contests.
The remarkable senatorial showdown between Cruz and Rubio went down to the wire amid accusations of lying about their pasts and plans, a flurry of gut-punch ads and eleventh-hour rollouts of A-list endorsements.
Something to prove: Rubio limped into South Carolina after a disappointing fifth-place finish in the Feb. 9 New Hampshire primary.
He took a beating after short-circuiting in a debate the Saturday before the Granite State vote, robotically repeating an attack on President Barack Obama until then-rival Chris Christie savaged him for it. 
"The longer both Rubio and Cruz remain in the race, the longer the anti-Trump vote remains divided."
Rubio compounded the mess, and the mockery, by malfunctioning again in eerily similar fashion while speaking on the stump two days later.
The Florida lawmaker blamed his debate debacle for the lousy showing and vowed to campaign with renewed resolve, promising supporters in a primary-night mea culpa, "That will never happen again."
Rubio seemed to hit his stride again in the Palmetto State, navigating his next debate turn more deftly and stumping with high-profile backers Sen. Tim Scott and Rep. Trey Gowdy before capping off his "dream team" with a late-game endorsement from ultra-popular South Carolina Gov. Nikki Haley.
Conservative crusade: Cruz hit the South Carolina trail with a win under his belt — but lugging heavy baggage. 
His victory over Trump in the Iowa caucuses spoke to a savvy get-out-the-vote operation and the ability to connect with evangelical voters, but his campaign also earned a reputation for fighting dirty.
Cruz came under fire for sending Iowans an official-looking mailer that implied they could get in trouble with the state for skipping the caucus. On top of that, he ended up apologizing after Team Cruz got outed as trying to drum up support by incorrectly spreading word that rival Ben Carson planned to drop out of the race.
Buffeted by accusations of low-blow campaigning and facing a very different electoral landscape, Cruz finished third in New Hampshire's GOP contest, outstripped not only by Trump but by Ohio Gov. John Kasich as well.
Cruz stepped it up with a heavy play for South Carolina's evangelical voters, touting his conservative credentials in the final pre-primary debate, campaigning with Bible-toting "Duck Dynasty" star Phil Robertson and scoring the backing of Rep. Mark Sanford, the state's ex-governor, who got right to work pushing back at Cruz's detractors.
Big picture: Ultimately, "The outcome of the Cruz-Rubio battle is really critical because it will decide who emerges as the main alternative to Trump," strategist Eric Ferhnstrom, who served as a top advisor to 2012 GOP presidential nominee Mitt Romney, told Mic.
"Neither one can make a serious run at Trump unless they get rid of the other person first. The problem is, will that question get settled too late in the primary for it to make a difference?" he asked. 
"The longer both Rubio and Cruz remain in the race, the longer the anti-Trump vote remains divided. Trump is weakest when he's forced to go one-on-one against an opponent."
The Donald's shadow: If either man had hopes of overwhelming Trump among primary voters here, a battery of polls suggested that would be a very heavy lift. 
Just before Saturday's vote, a RealClearPolitics average of the latest polls showed Trump pushing 32% support with South Carolina Republicans and Cruz and Rubio locked in a dead heat at 18.4% and 17.8% respectively.
Embracing a classic tactic — jacking up expectations for a rival's performance — Team Cruz argued ahead of the vote that with Haley and other GOP stars on Rubio's side, anything short of an outright Palmetto State win would be an epic fail.
On the flip side, after a skirmish over an obviously doctored photo Cruz used, the Rubio operation vigorously fanned the flames of doubt about Cruz's ethics and urged voters to be on the lookout for last-minute chicanery.
Cruz will have home-court advantage when delegate-laden Texas holds its GOP primary on Super Tuesday, March 1. Rubio's Republican constituents in the Sunshine State go to the polls March 15.