Donald Trump Ponders Whether Obama Would Attend Scalia's Funeral at a Mosque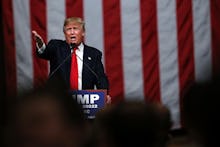 Current Republican presidential frontrunner Donald Trump is on somewhat of a racist roll as he heads into heated primary contests in Nevada and South Carolina, taking place Saturday.
In a tweet sent out Saturday morning, Trump asked whether or not President Barack Obama would have still skipped the late Supreme Court Justice Antonin Scalia's funeral if the ceremony took place at a mosque.
The remark is a reference to the president's recent trip to a mosque in Baltimore, and more broadly a widespread right-wing mythology painting Obama as a secret Muslim (who may well covertly be a Kenyan ineligible to serve as president, as Trump has repeatedly suggested).
As the real-estate billionaire faces the potential prospect of a campaign-ending defeat in the two states, he's also resorted to a familiar Trump tactic: Shoring up his frontrunner status with extreme statements about Muslims and other minorities.
At a rally in North Charleston, South Carolina, Trump relayed an apocryphal tale about U.S. Army Gen. John Pershing, whom he said murdered Muslim prisoners of war with bullets dipped in pigs' blood to send a message to Islamic extremists. Rumor-tracking website Snopes says a similar myth, distributed widely in a chain email, incorrectly claims "the Islamic belief is that if one's body is buried with a pig (because they are considered unclean) their soul will go to hell." Trump cited the alleged massacre as an effective terror-fighting strategy.
As gross as insinuating the president is a Muslim and advocating war crimes may be, Trump has succeeded not so much in spite of such statements but because of them. In December 2015, after proposing a complete and total ban on all Muslim entry to the United States, Trump's poll numbers surged despite withering attacks from across the political spectrum.
Trump leads the Republican pack at 34.2% nationally, followed by Texas Sen. Ted Cruz at 20.6% and Florida Sen. Marco Rubio at 16%, according to an average of polls kept by Real Clear Politics.