Bernie Sanders Personally Confirms Photo of His 1963 Arrest at Civil Rights Protest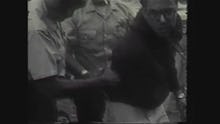 A 53-year-old photo showing presidential candidate and Vermont Sen. Bernie Sanders being dragged away from a protest by the police is genuine, according to Sanders.
The Chicago Tribune released the photo this week, while the Sanders campaign confirmed the image was indeed of the 74-year-old democratic socialist from Vermont on Saturday.
"Bernie identified it himself," senior campaign adviser Tad Devine told the Tribune. "He looked at it — he actually has his student ID from the University of Chicago in his wallet — and he said, 'Yes, that indeed is (me)' ... His activism and when it occurred, as a young college student, set in motion the direction of his life."
According to the paper, the 1963 protest was over "Willie Wagons," mobile classrooms civil rights activists said were brought to the Englewood area by then-Chicago Schools Superintendent Benjamin Willis to prevent black students from being integrated into white schools. Sanders, then a 21-year-old University of Chicago student, was arrested and found guilty of resisting arrest, earning himself a fine of $25 (nearly $200 in today's dollars, according to an online inflation calculator).
Also on Saturday, the campaign confirmed a film hosted on Vimeo showing a civil rights-era protester being arrested was indeed of Sanders, according to the New York Times. The film appears to have been recorded at the same protest.
Sanders' credentials as a member of the protest-going left are hardly a secret, even though some politicians supporting presidential rival Hillary Clinton have raised a few questions about his civil rights bona fides. While the release of the photos will likely have little impact on the 2016 race, they will probably serve as treasured bits of Sanders history by many of his supporters.