Nevada Entrance Polls Show Bernie Sanders Once Again Dominating Among Young Voters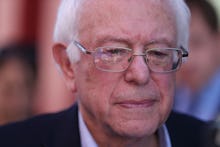 Hillary Clinton won the Nevada caucuses Saturday, but entrance polls indicate that her popularity among different demographic groups was fairly uneven. Sen. Bernie Sanders once again dominated among young voters and may have edged out his rival Hillary Clinton among whites and Latinos. 
The entrance polls — which can be useful indicators of trends but should be taken with a large grain of salt, as they can ultimately differ from final results — show Sanders faring far better than Clinton among voters ages 44 and younger, according to CNN.
Read more: Bernie Sanders' New Hampshire Victory Is Even More Impressive Than You Think
Among voters between 17 and 29 years old, Sanders is beating Clinton 84% to 11%, and among those between 30 and 44, he leads 67% to 31%.
Clinton, by contrast, seems to have a firm command over older voters. Caucusgoers between the ages of 45 and 64 favor her over Sanders 59% to 37%, and those over 65 prefer her 71% to 26%.
These trends aren't surprising — Sanders swept young voters in Iowa and New Hampshire, and nationally young people favor him by wide margins.
In terms of the breakdown of ethnic groups, the divisions aren't nearly as clear.
Sanders' edges out Clinton 50% to 46% among white voters, and leads among Latino voters 54% to 43%. Sanders was expected to do well among white voters, but if he does ultimately end up winning the Latino vote, it will be considered a coup for his campaign. Clinton's campaign has long banked on her high-polling numbers among minorities in the Democratic electorate as the firewall that would halt Sanders' once-longshot campaign.