Jeb Bush Ends His Campaign for the Republican Nomination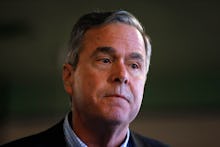 Following a disappointing showing in the South Carolina primary on Saturday night, former Florida Gov. Jeb Bush suspended his presidential campaign, eight months after the scion of a GOP dynasty entered the race as the party's odds-on favorite.
Speaking to supporters, Bush said that he was "proud" of the campaign he had run and vowed to continue advocating "for a new generation of conservative leaders at every level of our country."
"But the people of Iowa and New Hampshire and South Carolina have spoken, and I respect their decision. So tonight I am suspending my campaign," an emotional Bush said.
Bush was locked in a tight battle for fourth place with Ohio Gov. John Kasich in the Palmetto State, behind victory Donald Trump and runners-up Ted Cruz and Marco Rubio. The dismal result comes after he placed sixth in the Iowa caucuses and fourth in the New Hampshire primary. 
Looking to right his campaign's ship, he sought to beat expectations in South Carolina, which powered his father George H. W. Bush and brother George W. Bush to the GOP nomination in 1988 and 2000, respectively. But running a moderate-toned campaign and supporting immigration reform in a year dominated by frontrunner Donald Trump and hardline message on immigration, Bush failed to break through.
Bush's withdrawal will set off a ferocious competition between Rubio and Kasich for support among establishment GOP donors. The former governor assembled a formidable financial juggernaut when he looked like a much safer bet, raising more than $100 million in the first six months of 2015 alone. As Bush has struggled to gain traction, many donors have pressured him to improve his performance or drop out.