Suspect in Kalamazoo Shooting Identified As Jason Brian Dalton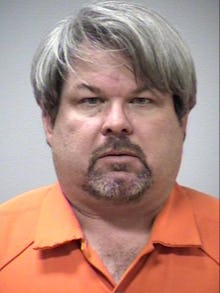 James Brian Dalton, 45, is the sole suspect in Saturday's Kalamazoo shooting spree.
Jason Brian Dalton, 45, is in custody following Saturday night's shooting spree in Kalamazoo, Michigan. Dalton is suspected to have killed six people in an ostensibly motiveless string of attacks. Around 6 p.m. Eastern, a woman was shot (but not killed) outside at an apartment complex. Around four hours later, two men were killed at a car dealership. The final shootings took place about 15 minutes later, at a Cracker Barrel restaurant. Four people were fatally injured and one, a 14-year-old girl, remains in critical condition.
"There is no connection between any of them, this all appears to be random," said Kalamazoo County Undersheriff Paul Matyas. "This is the worst-case scenario that any community can have."
Read more: At Least Six Dead After Shooting Spree in Kalamazoo County, Michigan
In the course of a "massive manhunt," police identified Dalton's car early Sunday morning, pulling him over and arresting him around 12:40 a.m. He was charged with two counts of homicide, according to the Journal News. Charges of one count of murder for each of Saturday's fatalities, along with charges related to the possession of a firearm, will likely be added. According to WOOD TV8, Dalton worked as an Uber driver and "dropped off passengers amidst shootings."
As CNN reported, no terrorist affiliation is suspected. Rather, Dalton appears to have randomly targeted his victims, which makes the incident particularly alarming: The shooter, acting alone, was apparently driving around and picking people off, according to CNN. 
"There's no common denominator with any of these," Matyas continued. "This person was just waiting in the parking lot of the apartment complex. The one at ... the dealership, they were looking at cars. The ones at Cracker Barrel, they were just sitting in their cars."
Dalton is being held at the Kalamazoo County jail and, to law enforcement's knowledge, has no previous criminal record.