National Eating Disorders Awareness Week Begins Sunday; Aerie Launches Campaign in Support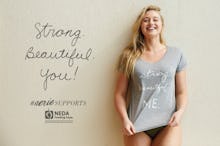 NEDA/Aerie
National Eating Disorders Awareness Week, organized by the National Eating Disorders Association, begins Sunday, Feb. 21. The week seeks to bring about awareness of the dangers of eating disorders, and to challenge the way the public perceives these illnesses.
"The goal of National Eating Disorders Awareness Week is to put the spotlight on the seriousness of eating disorders and to improve public understanding of their causes, triggers and treatments," the NEDA website reads, listing off the goals of the week. "By increasing awareness and access to resources, we can encourage early detection and intervention."
Read more: 7 Ways the Media's Depiction of Eating Disorders Failed Me As a Woman of Color
Within the United States alone, some 30 million people will be impacted by an eating disorder during their lifetime, according to the NEDA. 
 "It is important to remember that society and culture contribute to the risk of developing eating disorders," Claire Mysko, CEO of the NEDA, told U.S. News & World Report. "For example, the pressure to look and live a certain way, especially in an increasingly mediated world where social media invites comparing and despairing." National Eating Disorders Awareness Week seeks to dispel the myths surrounding eating disorders. 
According to the National Institute of Mental Health, many believe that eating disorders are a "lifestyle choice," and can be controlled. However, eating disorders can be caused by "a complex interaction of genetic, biological, behavioral, psychological, and social factors" according to NIMH. Some of the most common eating disorders are anorexia nervosa, bulimia nervosa, and binge-eating disorder. These illnesses do not discriminate; people of all ages, ethnicities and backgrounds can feel the adverse impacts of various eating disorders.
Aerie, an American Eagle lingerie brand, announced Thursday that the underwear brand would be supporting National Eating Disorders Week. Iskra Lawrence, an ambassador for the NEDA who teaches courses on eating disorders, will be heading the campaign. 
"In the modeling industry, I started at the age of 13, then I was dropped for being too curvy," Lawrence told Business Insider. "I was really scrutinized for my body, rejected, called certain things. Then I tried to do plus-size, but I wasn't big enough. So I struggled with, sort of, eating, and it's something close to my heart. Many of my friends have suffered."
Aerie will donate all of its sales of a newly designed T-shirt that reads "Strong. Beautiful. You!" to the NEDA.