French Montana, Kanye West And Nas Drop "Figure It Out," Reference Bill Cosby, Chinx Drugz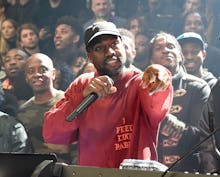 Kevin Mazur/Getty Images
In the midst of a new album drop, the third installment of his coveted fashion line Yeezy Season 3 and several online and real-life outbursts, Kanye West is continuing to churn out music. French Montana released "Figure It Out" featuring West and fellow hip-hop artist Nas on Saturday, following the release of West's 18-track album The Life Of Pablo on Feb. 14.
The song is off of Montana's latest mixtape Wave Gods and was posted to his CokeBoysMusic SoundCloud page Saturday. The club anthem was streamed well over 300,000 times in less than 24 hours.
Read more: Who's Pablo? The Meaning of 'The Life of Pablo,' Kanye West's Album Title
West offers an auto-tuned chorus throughout "Figure It Out," while Montana brings up several controversial topics, including Bill Cosby's sexual assault accusations, hip-hop artist Max B's controversial imprisonment and his friend and fellow artist's Chinx Drugz's death:
"They don't want no broke niggas/ But don't call them gold diggers/ I don't know, I don't know, why I ain't get the picture?/ Why Cosby slipped her? Why I fucked 'em both when they said they sisters?/ Why Eazy ain't have the Magic?/ Why AR never want a trip?/ And why God took Max and Chinx and he ain't take me when I got hit?"
Nas provides a candid look behind the closed doors of a celebrity's life, revealing it isn't all about diamonds and jewelry:
"Beyond Pérignon, the fame, the money, the Baccarat crystal that's hanging from the ceilings above me/ Hearing people whisper, screaming I'm lucky but trust me/ Nothing come free, shawty tried to keep my son from me/ Or I could be delirious to take life serious/ Remain single forever, can't wife nothing, period/ I'm a G, I need privacy, media's never kind to me."
Throughout the single, the meaning behind West's hook becomes clearer: the rappers aren't holding anything back in "Figure It Out:"
"No matter how much I've tried, no matter how much I've tried/ Can't lie to you, I can't lie to you/ No matter how any times I've, no matter how many rhymes I've/ I got it all in my mind, I got it all in my mind/ I can't lie to you, No matter how many times I've tried/ I can't, I can't lie to you/ I can't, I can't lie to you"
Wave Gods is available for streaming on DatPiff. Listen to Montana's "Figure It Out" with West and Nas below:
Source: Soundcloud