Twitter Calls Out Media and Police Double Standards After Deadly Kalamazoo Shooting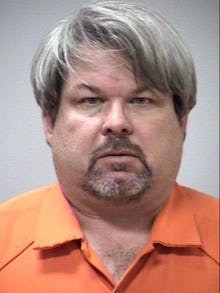 Sole suspect in Saturday night's Kalamazoo shootings, Jason Brian Dalton.
That there is no apparent reason for Saturday night's fatal shooting spree in Kalamazoo, Michigan makes it all the more frightening. Sole suspect Jason Brian Dalton, 45, allegedly selected his victims at random. He had a gun and a car, if not a motive; he opened fire on a woman outside an apartment complex, a father and son looking at cars at a local dealership and five people at a Cracker Barrel restaurant. The string of shootings left six people dead and two in serious condition.
"There's this sense of loss, there's this anger, there's fear, there's all these emotions," Kalamazoo County prosecutor Jeffrey Getting said. "You put on top of that: How do you go and tell the families of these victims that they weren't targeted for any reason than they were there to be a target?"
Read more: Suspect in Kalamazoo Shooting Identified as Jason Brian Dalton
Kalamazoo is now left to make sense of a senseless act of violence. As far as the internet is concerned, there are a few fairly salient lessons to be learned here. Some Twitter users are calling attention to the still-pressing need for gun control, arguing that all one needs to carry out a mass shooting is access to a firearm — that any mass shooter is a harmless gun owner up until the moment they pull the trigger.
Others are wondering what media coverage would look like if Dalton hadn't been a white man — if, for example, he'd been black, would the police have brought him in alive?
That Dalton is white, some Twitter users are saying, is the only thing saving him from a label he maybe deserves. While CNN reported that there was no link to terrorism, with the fact that Dalton acted alone and at random, many are wondering how the conversation about the Kalamazoo shootings would change if he had been, for example, Muslim. 
Many Twitter users are speculating that terrorism would be the first thing people mentioned when trying to find a motive, and backlash wouldn't be confined to just the one individual who fired the gun. Many think a shooter of a different faith would serve as justification for discrimination against an entire religious group — certainly, it has in the past.