Is Jay Z Touring With Beyoncé During the Formation World Tour?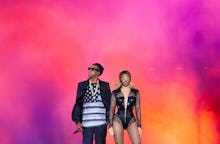 Rob Hoffman/AP
Beyoncé announced the Formation World Tour after teaming up with Coldplay and Bruno Mars during the halftime show at Super Bowl 50 Feb. 7. The 34-year-old singer will kick off her world tour in Miami on April 27, traveling across the country before heading overseas to Europe. 
The tour will feature 40 shows throughout North America, the United Kingdom and Europe. The Canada and United States shows are set to run until the middle of June, with the U.K. and Europe segment of the world tour beginning in June and running through July. Rumors of an album have surfaced, but what many fans are asking is if the "Formation" singer will be accompanied by her husband, Jay Z, on the world tour. 
While no sources have confirmed that Jay Z will be joining his wife on the tour yet, it is clear that 2016 will be Queen B's year. "Beyoncé doesn't have the pressure of releasing an album and is doing bits here and there because she and her team know it is Adele's time to shine," a music insider revealed, according to The Sun. "Now Adele's sales are starting to die down, Beyoncé is ready to drop her album at any time."
The last time the power couple teamed up, their On The Run tour sold out in many cities across the nation, with 19 North American stops. The tour overall grossed more than $100 million, according to Billboard. But Beyoncé has developed into a powerhouse herself, with her Mrs. Carter World Tour in 2013 that grossed over $200 million, according to ABC News Radio.
"We had a lot of things that went into making this tour an event, and that was part of our success," said Omar Al-Joulani, who then was the vice president of North American touring for Live Nation, the promoter and producer of the On The Run tour. "These events are driven by content and demand, and being dramatic and creative and putting out content people want to see. The two of them are as about creative as you can get, and it was pretty brilliant to watch them work. The show itself is spectacular." 
If Jay Z decides not to attend his wife's world tour, this will be Beyoncé's first solo tour since the Mrs. Carter World Tour, her fifth concert tour.