12 of the Most Candid Beyonce Instagram Photos That Show She's Almost Just Like Us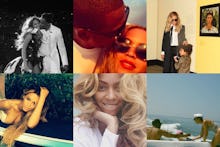 Mic/Instagram
Beyoncé doesn't typically invite fans into her personal life. The often guarded musician keeps a low profile on social media, only giving glimpses of her world through candid Instagram photos — Queen Bey hasn't even tweeted since 2013. Though most pictures typically show a flawless Beyoncé in photo shoots and sometimes heavily edited images, the "Formation" singer does occasionally drop a picture online to remind viewers she is, in fact, a human being. 
To be honest, it can be difficult at times to decipher whether Bey's Instagram pics are candid or not. Photos with her husband and rap mogul Jay Z typically appear unfiltered and rawer than most — the same goes with family photos of her and Blue, the couple's 4-year-old daughter. Regardless of whether Beyoncé is uploading the pictures herself or if they're receiving filtering and editing by professionals, each image the superstar uploads immediately goes viral, and certainly slays. 
Read more: We Turned Beyoncé Lyrics Into Inspirational Memes. You're Welcome.
Check out some of the most candid, inside looks of Bey's life through her Instagram.
When she was vacationing somewhere with Jay: