Facebook Post Allegedly Describes Terrifying Uber Ride With Kalamazoo Shooter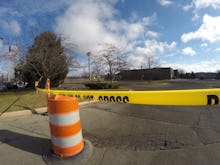 Police believe 45-year-old Jason Dalton, the man who allegedly shot and killed six people and wounded two others from his car Saturday night in Kalamazoo County, Michigan, may have been an Uber driver.
According to Wood TV8, "authorities are investigating reports that Jason Dalton dropped off a group of people at a Fairfield Inn Marriott in Texas Township, then went next door to the Cracker Barrel and allegedly opened fired [sic] on two vehicles, killing four people."
Wood TV8's Luke Stier reported police are looking into a Facebook post describing a harrowing ordeal with an Uber driver matching Dalton's description. Posted at around 6 p.m., shortly before the shooting started, the post describes an Uber driver who sideswiped another vehicle, blew through urban areas at 80 mph and initially refused to let passengers exit the vehicle.
According to other reports from the station, Dalton dropped off fares shortly before the shootings.
"There is no connection between any of them, this all appears to be random," said Kalamazoo County Undersheriff Paul Matyas. "This is the worst-case scenario that any community can have."
"There's no common denominator with any of these," Matyas continued. "This person was just waiting in the parking lot of the apartment complex. The one at ... the dealership, they were looking at cars. The ones at Cracker Barrel, they were just sitting in their cars."