US Secretly Agreed to Peace Talks With North Korea Before They Tested a Nuclear Bomb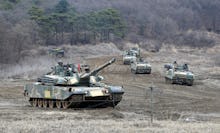 The White House secretly agreed to enter negotiations with North Korea to formally end the Korean War, going so far as to agree to eliminate preconditions concerning its nuclear program, just days before the country tested what it claimed to be a hydrogen bomb.
The Wall Street Journal reported the Obama administration instead "called for North Korea's atomic weapons program to be simply part of the talks. Pyongyang declined the counter-proposal, according to U.S. officials familiar with the events. Its nuclear test on Jan. 6 ended the diplomatic gambit."
In the wake of the Jan. 6 nuclear test, the U.S. and Japan imposed new sanctions on North Korea, with the U.S. blacklisting "primarily Chinese" companies that do business with the dictatorship, according to the Journal.
News of the failed negotiations will be a headache for the Obama administration, which sought to capitalize on the momentum generated from another nuclear deal with Iran. Conservatives in Congress and elsewhere have harshly criticized the president for what they see as insufficiently tough foreign policy.
Following the test, South Korean President Park Geun-hye shut down the Kaesong industrial complex, a massive manufacturing facility in the Demilitarized Zone between the two countries, which employed 54,000 North Korean workers.
North Korea has an unknown number of functioning nuclear bombs, but likely currently lacks a reliable missile system capable of delivering one, reports BBC.