Donald Trump Admits He Has No Idea What He Was Talking About Before the Iraq War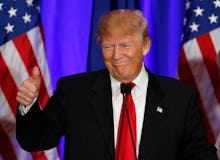 Donald Trump says he knew the Iraq War was a bad idea before it began, but can't quite back that assertion up.
On the Feb. 21 edition of NBC's Meet the Press, the real-estate billionaire offered a confusing, and somewhat revealing, take on the seeming discrepancy between his public statements on the U.S. invasion and occupation of Saddam Hussein's Iraq in the early 2000s.
When host Chuck Todd confronted Trump with a 2002 Howard Stern Show clip of him answering, "I guess so ... I wish the first time it was done correctly" in response to a question on whether he supported the Iraq War, the candidate kind of admitted he had no idea what he was talking about back then.
"Well, what I mean by that is it almost shouldn't have been done, and, you know, I really don't even know what I mean, because that was a long time ago, and who knows what was in my head?" Trump responded.
There's the guy for you in a nutshell. Given Trump's long record of misleading statements and outright falsehoods, viewers might be forgiven for wonder whether anyone knows what's still going on in his head today.
"I think that it wasn't done correctly," Trump continued. "In retrospect it shouldn't have been done at all. It was sort of, you know, it was just done, it was just – we dropped bombs.
"Don't forget, I was in business," Trump added in his defense. "I was a businessman. I was a real estate man and a businessman. That was the first time I think that question was ever even asked of me. That was long before the war took place."
The candidate took home a double-digit victory in the South Carolina presidential primary on Saturday, scoring 32.5% of the vote, according to Reuters.
Trump has repeatedly said he was one of the few prominent opponents of the Iraq War before it began, despite evidence to the contrary – including book passages and remarks in interviews indicating he supported U.S. military action against Hussein. In the most recent Republican debate, Trump shocked a conservative debate audience in South Carolina by telling fellow candidate and former Florida Gov. Jeb Bush (who has since dropped out) that his older brother George W. Bush's administration lied about the causes of the war.