Why Makeup Matters to Transgender People — and How the Internet Is Helping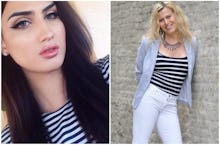 When Alison* was in college, she remembers running into drugstores and grabbing whatever makeup she could get her hands on before dashing to the check-out line, fearful that someone would see her buying eyeshadow and lip gloss. After all, to the world, she was a boy. Now 34 years old and in the first few months of her transition, she's getting the hang of makeup, and says she couldn't have done it without the help of an unlikely resource: Reddit. 
"I started off needing support," Alison told Mic. "Where I lived was very rural. I was not in a position to talk publicly, and my therapist recommended I check online forums. I got to the point where I at least needed to mention it to somebody, so I started by making an anonymous name and started posting and asking for [makeup] advice."
Read more: This Trans Beauty Queen Lost Her Title for Wearing Boxer Briefs, Not Being Trans Enough
Over the next few weeks, Alison started posting honest selfies to the subreddit r/MakeupAddiction, a thread filled with women grappling with questions like which foundation offers the most lightweight coverage and which lip gloss lasts the longest. In return, she received thousands of genuinely helpful comments regarding how she looked and tips on what to try. The support was so overwhelming that in January, she posted a selfie with the caption, "I just wanted to thank you all for your advice and support, it has meant so much to this trans woman." 
Reddit isn't known for being the most accepting platform on the internet. In fact, in an era of trolls and hackers, the internet overall isn't always the most hospitable place. And yet for transgender women like Alison, forums like Reddit are crucial safe havens for expression — especially when it comes to the all-important matter of makeup.
Why is makeup so important? The relationship between makeup and transgender people is a complex one. For Alison and many other transgender women, makeup is one of the first steps to embracing their own gender identity. There isn't one way to be "female," but makeup is certainly one traditional aspect of modern femininity that trans women may try.
It's also cheap, easily accessible and easily removable, so according to Alison, a swipe of foundation or mascara can actually have a huge impact.
"It does so much and yet it is so little," Alison said. "It was this thing that really helped me see me in the mirror, and it has been huge with my self-esteem." 
There's also the practical matter of physical transitioning and safety. For some women, "passing," or being easily recognized as their chosen gender, means life or death, and makeup just makes that process a little bit easier. 
"As soon as I recognized that I would need to transition, I was approaching [makeup] more from a way to be safe to be able to live my life," Alison said. "To build up my skills and know how to use it properly."
That's particularly important considering that the number of transgender homicides in the U.S. hit a record high in 2015, and, worldwide, it's been reported that one trans woman is murdered every 29 hours. Depending on location, transgender women face the possibility of violence nearly every day. In some cases, makeup can make women feel safer going out in public, even before they may undergo hormone therapy. 
Using makeup to cover maleness: So what does using makeup for transitioning entail? For author Nicola Jane Chase, who wrote the book Tea and Transition, the first step she took was finding the right foundation to cover up stubble. 
"I needed much more coverage, because I'd not started hormone therapy nor done any permanent hair removal on my face," Chase told Mic. "So I used heavier liquid foundation in particular. Then with the softening of the skin with hormone therapy, and the regular process of laser and then electrolysis treatments for hair removal, I could become much more selective with the makeup I was using."
According to Obie Farrow, a makeup artist who works at the gender-affirming barbershop Big Bro's Barbershop in Vancouver, makeup can fully transform someone's face to make it appear more feminine or more masculine.
"[Cisgender] men have paler lips and a different sort of face shape so you have contouring," Farrow told Mic. "Contouring is actual magic. You can shape the brow, shape the jaw." 
In Alison's case, she initially went for a lighter, natural look. She focused on color correcting to blur any discoloring she may have after shaving, arching her brows and minimizing the look of her nose – not because it was particularly masculine, but just because that's the way she wanted to look. 
"In the beginning, makeup can be so stressful, because it's about covering up what you consider to be male," Marlyn Alarm, a 23-year-old trans woman living in Miami who's been particularly vocal about her makeup evolution, told Mic. 
Finding your own female identity: But since she began transitioning years ago, Alarm has noticed that makeup has changed her personality for the better, since she was no longer obsessing over trying to "pass," but just being herself. 
"I don't feel like I'm trying to hide anything anymore," Alarm said. "I'm just like, 'Oh, I wanna wear liner,' and I'm not thinking about the things about my face that used to make me uncomfortable. It's just a free-flowing thing where I don't have to use a full coverage foundation, which is very liberating." 
That's very much the stage that Alison currently finds herself in. She says she's still clueless as to what to do in the space between her lash line and eyebrow, and she's inching her way towards being comfortable with bolder lip colors. But she's pleased with having finally found a foundation that works for her.  
Finding that perfect look isn't necessarily about nailing a single ideal of femininity. At its core, makeup is still about self-expression; and just like cisgender women, some trans women will want to wear a ton of makeup, while others might forgo it altogether.
"I knew (or I thought I knew) how I wanted to look, and so it was just a process of getting the right product to make that happen," said Chase, who told Mic she is "older than 40." She continued, "That's not to say there weren't makeup disasters along the way — of course there were — but all girls experiment with finding the right makeup; whether they are trans girls or cisgender girls growing up or in their teens. I just did it rather later in life!"
It's not always about trying to look like, say, Laverne Cox or Caitlyn Jenner, but trying to find the look that they feel most comfortable in as they explore female identity. That means trans women often have to ask themselves questions about their own makeup taste, such as, do they want to go natural and focus on basics like foundation and mascara, or do they want to employ tactics like contouring to give themselves the exact face they want?
To answer those questions, many turn to the internet: Some trans women may turn to IRL guidance, such as a "feminine image consultant." But according to Alison, she wouldn't be at the stage she is at without Reddit's help. Under her post in January, where she thanked the commenters who had guided her for more than a month, there are hundreds of constructive comments like, "You look great! This lip color really suits you! I'm not sure green eye shadow is the best bet though." 
"I was very much of the mind of 'I'm going to broadcast this and show them how helpful they've been and how grateful I am," Alison said. "There's just so many helpful, wonderful women on that subreddit and I just found it a great place to continue my love of makeup."
Each of her selfies have received streams of comments offering her both criticism and advice like, "I love the tightline and I think you could go for a brown colored eyeliner as well if you'd like to bring out the green in your eyes!"
Although MakeupAddiction is widely known for being one of the most helpful makeup subreddits out there, Alison didn't expect this sort of response, especially since she was openly trans when she posted her first selfies.
"The moderators are really who to thank in this case," Alison said. "They're extremely diligent and because of them, women like me feel safe posting and reading all those comments." 
Meanwhile, for Alarm, YouTube proved especially helpful. In the beginning, she looked to YouTube personalities like Joseph Harwood, who helped her figure out what makes a face masculine or feminine and what she could do to achieve the look that she wanted. 
Harwood, who has more than 140,000 subscribers to his YouTube channel, is known for posting many trans women's transitions to his account, with his most popular one raking in more than 950,000 views. 
Other popular trans beauty vloggers include Julie Vu, aka Princess Joules, and Zoey Zoco, aka Fritz Fashionista, who are open about their transitions, their experiences with hormones and their makeup explorations. YouTube is already home to millions of makeup videos, making it an ideal home for trans women looking to delve into the world of cosmetics.
What the internet also offers, which Alison couldn't experience when she started buying makeup in drug stores over 10 years ago, is more privacy and safety. Now, she has the ability to check out and buy makeup online, which makes buying makeup much safer than what she experienced more than 10 years ago. 
"When I was first thinking about makeup, you couldn't go on Amazon and get it shipped, and you had to come face-to-face with someone to buy it," Alison said. "So now, makeup is so readily accessible and people are so helpful online."
That includes Sephora product review threads, which are full of some of the most detailed and opinionated makeup reviews out there, and are often accompanied with pictures of women wearing the makeup. Both Alison and Alarm note that MAC Cosmetics counters have also been hugely helpful for them, as have the people who work at Sephora's stores.
In addition to just having a vocal community of women talking about makeup online, Alison now also has a wealth of information from transgender women themselves, who have taken to the internet to post about their own experiences. Alarm did so for Into the Gloss, and Nicola Jane Chase for PopSugar. Even Caitlyn Jenner is rumored to be working on a makeup line herself. It's an ongoing conversation, one that doesn't end with transitioning or have any right or wrong answers. Ultimately, it's about finding oneself.
Now more than ever before, transgender women are stepping forward to teach women like them helpful makeup tips, and make sure that they don't feel like they're alone in a journey that doesn't end with transitioning.
As Alison told Mic, "It's not just about fitting in, but enjoying this part of my life."
* Last name has been withheld to allow subject to speak freely on private matters.