Is Beyoncé Planning on Starring in Another Movie? What We Know About Bey's Next Project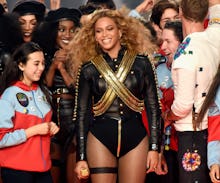 Kevin Mazur/Getty Images
Beyoncé is returning to the big screen.
In December, Page Six announced Beyoncé had taken a role in Bradley Cooper's remake of A Star Is Born, his first turn as a director and her seventh as a film actress: She has previously appeared in Obsessed (2009), The Pink Panther (2006), Cadillac Records (2008), The Fighting Temptations (2003), Austin Powers in Goldmember (2002) and Dreamgirls (2006), her most famous credit. 
Read more: With Two Performances, Beyoncé and Kendrick Lamar Changed Black Storytelling Forever
"Beyoncé is a go," an unnamed source told Page Six in December. Beyoncé had reportedly been after "an iconic dramatic role," Us Weekly reported a source saying. "She wants to make a film that's socially relevant to African-American rights." Which tracks with her apparent resolve to be more vocal about her political and social stances this year — remember that time she released the woke AF single, "Formation," earlier this month and simultaneously exploded the internet?
What's more, the starring part in A Star Is Born is definitely iconic: Judy Garland played Vicki Lester in the film's second, 1954 iteration (the original came out in 1937). In 1976, Barbra Streisand took up the role (of Esther Hoffman) for the remake's remake. 
According to Page Six, Queen Bey originally took a shine to the project when it was still under the leadership of Clint Eastwood. Now under Cooper's direction, it's unclear when this modern, Beyoncé-fied version will hit theaters. Page Six predicted production would begin by the end of 2016 or early 2017, as Cooper was still in the process of corralling backers and other actors for the project when the news broke. What, Beyoncé is not enough?
So, in short, it's going to be a little while before Beyoncé graces audiences nationwide with her cinematic presence. Will the wait be worth it? Rhetorical question. Bey is pop culture royalty for a reason. Her next film project is basically guaranteed to do for national box offices what her mention of post-coital feasting did for Red Lobster's cheddar bay biscuits.