'The Walking Dead' Season 6, Episode 10 Recap: New Character Jesus Enters "The Next World"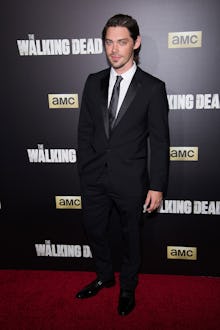 Charles Sykes/AP
After the chaotic walker assault that left the entire Anderson family dead by last week's episode's end, it's only fitting that The Walking Dead has been able to find Jesus, a new character with a similar persona to another member of the group, Michonne. While the 10th episode of season six, "The Next World," didn't have the same carnage as last week's bloody season premiere, key developments were made that mirror the comic books the show is based off of. (Warning: detailed spoilers for "The Next World" and mild spoilers for the comics ahead).
Read more: 'The Walking Dead' Midseason Premiere Recap: Death Marks Season 6 Return in "No Way Out"
"The Next World" opens with a brief time jump, touching on what Rick (Andrew Lincoln) tells an ailing Carl (Chandler Riggs) in the final moments of the previous episode, hoping to show him a "new world." In it, Alexandria has returned to a somewhat peaceful state with a now-recovering Carl. Instead of imminent zombie or rival group danger, Rick and Co. are in need of supplies for the community. 
During a scavenging run, Rick and Daryl (Norman Reedus) stumble upon a gold mine of supplies in the back of a truck. While stopping to retrieve more items at a gas station, Jesus (Tom Payne) — whose real name is Paul Rovia — literally runs into them while he says he was running away from zombies. He does, however, swipe the keys to the supply truck from Rick, driving away with their impressive haul. 
Given the crew's history with strangers, it's understandable that Rick and Daryl were wary of a potential new foe — and understandably irate. However, in the comics, Jesus follows a similar narrative to Michonne (Danai Gurira) — a lone wolf and capable survivor whom the group is initially hesitant to trust. He will likely also play a role in their eventual encounter with the sadistic new villain Negan (to be played by Jeffrey Dean Morgan), who is slated to appear at some point this season.  
Finding Jesus at the broken down truck, Rick and Daryl eventually tie him up, but not before getting a brief ass kicking in hand to hand combat (thankfully, they had their guns). In the subsequent aftermath, Jesus climbs on the top of the truck, creating another brawl with the duo. Unfortunately, amidst the chaos, the truck is sent plunging into a lake, while Rick and Daryl bring an unconscious Jesus back to Alexandria. 
While it remains to be seen how Jesus fits in with the rest of the crew, Walking Dead comic book creator — and the show's executive producer — Robert Kirkman, said that he is an "absolute, complete badass." 
"He's smart, quick, very athletic," Kirkman said, in an interview with Entertainment Weekly. "He's kinda been surviving on his feet. He's going to be bringing a lot to the show. There's some cool stuff coming with him."
Additionally, fans on Twitter familiar with the character expressed their excitement over his on-screen debut. 
Meanwhile, Spencer (Austin Nichols) struggles to cope after his mother Deanna (Tovah Feldshuh) is bitten by a walker in the midseason finale, which made him the last surviving member of his family. He wanders in the woods outside of Alexandria, until he finds a zombified version of her to kill and bury as a means of getting closure. Michonne assures him that he still has a home and a family in Alexandria, even without her.  
However, it isn't Michonne's biggest moment of the episode. In the closing minutes, she and Rick — already living together in the same house — spend their first intimate night together. Naturally, though, Jesus breaks in post-coitus, once again escaping his ropes, because he wants to talk with Rick.
The Walking Dead is likely gearing up for an intense, climactic season finale with Negan — but before that, we needed Jesus. Thankfully, we now have him.