Kim Kardashian and Kanye West Have Separate Bank Accounts — Here's Why It's Not a Bad Idea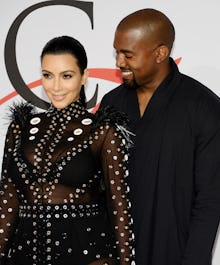 Evan Agostini/AP
Between the release of his newest album, The Life of Pablo, an online beef with rapper Wiz Khalifa and a bizarre set of tweets begging Facebook co-founder Mark Zuckerberg for support, Kanye West has had an interesting few months to say the least. However, the Chicago-born artist is now under scrutiny for another reason: his financial status with his wife, Kim Kardashian West. 
A source close to the Kardashian West family told People Magazine that while both "make a lot of money, and money is not a problem with them ... they keep their accounts basically separate." According to the source, the rapper will "talk about 'my money' and 'her money.'" 
But is this a bad thing? 
Read more: Kim Kardashian West's Boob Tape Trick Puts Every Other Boob Tape Trick to Shame
The 35-year-old reality television star is a successful businesswoman and may be trying to protect the empire she's grown. It's likely that Kim K was the one to push for separate finances, in order to protect herself. "The most important things to consider are your financial goals, both individual and as a couple, and your organizational preferences," financial therapist Amanda Clayman told Salon in an interview. 
Kardashian West was formerly married to songwriter Damon Thomas and basketball player Kris Humphries. She and West have a prenuptial agreement. The agreement states that Kardashian West will receive $1 million for every year the duo is married, their mansion will remain in her name, and she will be allowed to keep any gifts from Yeezy, according to Radar Online. 
 "Kanye didn't even think the couple needed a prenup, and was ready to give Kim carte blanche to all of his financial assets. Yes, he loves Kim that much," an anonymous source told Radar. 
According to Forbes, the reality TV star has made almost $53 million in 2015, sitting at number 33 on the list of top 100 highest paid celebrities for the year. With West claiming that he has accumulated $53 million in personal debt, we can't say we blame her for wanting to keep her finances separate.