Taylor Swift Just Gave Kesha $250,000 Amid Ongoing Legal Fight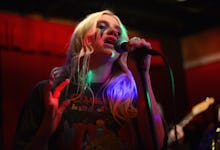 Kesha Rose Sebert's legal attempt to break her contract with record producer Lukasz "Dr. Luke" Gottwald, citing years of sexual and psychological abuse at the hands of the producer, received a major show of support Monday with the announcement that pop megastar Taylor Swift would donate $250,000 to the singer to assist with legal fees and other expenses, USA Today reported.
"In a show of support, Taylor Swift has donated $250,000 to Kesha to help with any of her financial needs during this trying time," Swift's spokesperson, Tree Paine, told USA Today in a statement. Though Kesha has received widespread support from fellow recording artists in the industry, Swift appears to be the first to have opened her wallet.
Read more: Emma Watson and bell hooks Talk Hermione, Beyoncé and Feminism
Kesha's case came to widespread prominence on Friday after New York Supreme Court Justice Shirley Kornreich ruled that, despite the allegations, Kesha was legally bound to her contract with Dr. Luke's employer, Sony, according to USA Today.
Dr. Luke is widely credited with discovering the singer and produced many of her most famous hits, including "Tik Tok" and "Die Young," the Los Angeles Times reported. The singer has not produced new music with Sony since 2013.
Though Sony said it would partner her with another producer, Kesha insisted the label would ultimately sideline her work out of deference to Dr. Luke, according to the Hollywood Reporter.
For her part, Swift has faced criticism in the immediate aftermath of the verdict online for not taking a more forceful pro-Kesha stand. Swift frequently espouses feminism in much of her music, but some believe her pro-women stance is more of a publicity ploy than a deeply held conviction. 
But the subsequent donation was still not enough for some. In a tweet, singer Demi Lovato suggested the money was an insufficient show of solidarity.
Others praised Swift's decision, with one fan even suggesting that the real focus of public outrage shouldn't be Swift at all.
Either way, Kesha remains committed to her fanbase (aka Animals) and her other supporters.
Feb. 22, 2016, 10:13 a.m. Eastern: This story has been updated.
Correction: Feb. 22, 2016