Hamburg, Germany Just Banned Those Single-Use Coffee Pods in the Name of Mother Earth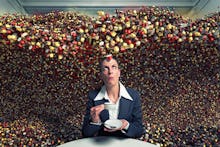 "I have measured out my life in coffee spoons."
Were T.S. Eliot alive today, he might measure his life in another increment — single-use coffee pods.
But those single-use coffee pods, it turns out, are an environmental nightmare, which is why Hamburg, Germany is taking a stand. Germany's second-largest city became the first in the world to ban them in state-owned buildings. 
Read more: 2016 Is Already on Its Way to Breaking Climate Records — Great Job, Humanity!
In January the Hamburg Department of the Environment and Energy released a report that detailed the new rules and regulations.
Translated as the "Guide to Sustainable Procurement," according to the Digital Journal, the report says the pods generate unnecessary waste and hurt the environment. (Quick digression: The German word for these single-use coffee-pod machines is amazing — "Kaffeekapselmaschine.")
Coffee pod manufacturers have been criticized for wastefulness in the past because the product is "not recyclable or biodegradable," the Atlantic noted in March, which also explains that roughly one-third of Americans own single-use coffee machines in their homes. 
According to the article, estimates say the number of pods consumed in 2014 alone could circle the planet somewhere between 10 and 13 times. And there are no signs that sales will abate anytime soon.
For coffee-pod lovers, this could cause some jitteriness. But for those who love the planet, it's reason to breathe a little easier.
Feb. 22, 2016, 11:03 a.m. Eastern: This story has been updated.
Correction: Feb. 22, 2016