Why Was Matthew Perry Not at the 'Friends' Reunion? Actor's Absence and Critical Response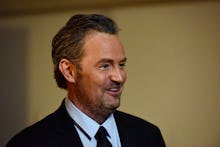 KGC-42/STAR MAX/IPx/AP
At long last, the cast of the adored '90s and early 2000s sitcom Friends reunited onstage Sunday night for a two-hour-long special, which NBC broadcasted at 9 p.m. Eastern. The gang was all there — minus Matthew Perry. And the empty chair next to former fellow cast members Jennifer Aniston, Courteney Cox, Lisa Kudrow, Matt LeBlanc and David Schwimmer had some viewers scratching their heads.
"We miss you Matty," LeBlanc said, after the actors had settled onstage.
According to a representative for Perry who spoke to Entertainment Tonight, NBC was aware of a scheduling conflict that would result in Perry's absence but proceeded nonetheless. "Matthew Perry... is in London in rehearsals for his play, The End of Longing," the rep told Entertainment Tonight. "The play begins previews on Feb. 2 at the Playhouse Theatre. NBC executives knew this prior to their TCA announcement."
Read more: 'Friends' Fans Are Psyched For Rumored Reunion, but They're Going to Be Very Disappointed
In lieu of an in-person showing, Perry appeared at the special's onset in a pre-recorded video, as did actors Debra Messing and Kelsey Grammer. The special honored Friends director James Burrows.
When news of the special first surfaced, long-time Friends fans collectively fell off their chairs, but initial excitement was a bit misplaced. To be fair a "Friends reunion" is undeniably misleading, and audiences were first disappointed to learn that the reunion meant a two-hour-special, not an official reboot. Big time supporters of Chandler, Perry's character, were doubly disappointed to learn of his absence. Yet according to early reviews of Sunday night's special, those weren't the only blows viewers weathered. 
Reviewing the reunion, the Guardian's Brian Moylan called NBC's special "one of the most intensely boring two hours I have ever endured," and lambasted the actors onstage for their lack of humor and "shameless" plugs.
Likewise, in a review titled "NBC's Friends Reunion Is a Total Bust," the Daily Beast's Matt Wilstein wrote that "Instead of catching up with the characters of Friends, Sunday night's special simply highlighted the mostly awkward interactions of five actors who have seen their careers go in markedly different directions in the 12 years since the show ended its 10-season run."
Despite some letdowns, the special did give longtime fans some interesting details about the Friends saga from those who knew it best. And there were moments during the special that, perhaps, reminded audiences what the event centered on — honoring legendary comedic director Burrows. 
"He really gave us the opportunity of a lifetime and probably the best 10 years of our acting careers that we will forever remember," Aniston said. "We experienced friendship, family, heartbreak, babies, everything together."
"He really encouraged us all to sort of get along, get to know one another and be kind and support one another," LeBlanc said.