Demi Lovato Slams Taylor Swift's Donation to Kesha's Legal Battles, Swift Fans Fight Back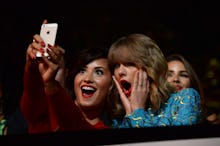 Jeff Kravitz/MTV1415/Getty Images
Why don't you tell us how you really feel, Demi Lovato? Lovato was clearly unmoved after Kesha's mother tweeted that Taylor Swift had donated $250,000 to the fellow musician attempting to remove herself from her Sony record contract after revealing the label's producer Lukasz "Dr. Luke" Gottwald had allegedly sexually abused her. 
"Take something to Capitol Hill or actually speak out about something and then I'll be impressed," Lovato wrote on Twitter shortly after Kesha's mother thanked Swift, writing it's important "these beautiful, powerful women are standing behind her." Though the rest of her tweets have since been deleted, Lovato apparently kicked up the shade a notch, knocking Swift for throwing money at causes without actually walking the walk. 
Read more: Watch Demi Lovato Slay Every Damn Note in Lionel Richie's "Hello" 
Instead of being hailed as a "true feminist hero" however, Lovato was ripped apart for attacking another woman while the rest of the music industry was taking a hard look at the intersection of the music industry and rape culture in America. 
"How the fuck am I making this about myself?" Lovato asked Swift's legion of fans on Instagram, Us Weekly reported. "At least I'm talking about it. Not everyone has 250K to just give to people. Would love to but I didn't grow up with money and def haven't made as much as her. At least I speak up about shit that's uncomfortable to talk about rather than trying to be politically correct 24/7."
On Friday, New York Supreme Court Justice Shirley Kornreich ruled in favor of Sony preserving its six-album record contract with Kesha, despite her alleging Dr. Luke, one of the label's major music producers, has been abusing her for years. 
"You're asking the court to decimate a contract that was heavily negotiated and typical for the industry," Kornreich told Kesha's attorney Mark Geragos, the Hollywood Reporter reported Friday. According to Kornreich, her "instinct is to do the commercially reasonable thing."
Dozens of Kesha fans stood in support of the embattled musician at the courthouse on Friday, with celebrities (both men and women) taking to social media to standup for the singer. 
When the New York Supreme Court's ruling was announced Friday, Lovato kept silent on Twitter, only expressing her thoughts on the matter late Sunday night. 
"Didn't shade Taylor. If you take it that way than fine," Lovato continued on Instagram, according to US Weekly. "I'm just tired of seeing women use 'women empowerment' and 'feminism' to further brands without actually being the ones that have the uncomfortable conversations ... I get shade and I don't give a fuck because someone has to be the one to take it. At least I'm getting my hands dirty."
Swift and Kesha fans, as well as many other social media users, quickly spoke up about Lovato's statements on the issue. "Being a shady brat isn't the answer either," one user wrote. "Look, I get where you're coming from. Words speak louder than our actions and money can't buy us everything," a loyal Lovato fan even noted. "However we shouldn't judge others for how they choose to support one another. Solidarity sister, us chicks got to stick together."