This Woman's Tweet About Her Dad Shaming Her for Dating a Black Man Is Going Viral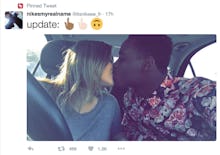 In 2016, it's increasingly acceptable for people in the United States to love whoever the hell they want to love, however the hell they want. But for many interracial couples, it can feel like they're stuck in another century. 
Stephanie Hicks, 20, and her boyfriend Nike tried to take a stand against the discrimination and bigotry that interracial couples still face after reportedly receiving a bigoted letter from Hicks' father, in which he threatened to disown her for entering what he referred to as "a disgusting relationship" with a black man. 
Hicks, who is white, posted a photo of the letter on Twitter with the caption "sad it's 2016 and skin color still matters."
"I hoped I would eventually take the high road and come to accept an interracial relationship," the letter reads. "The truth is that I'm human, and I make choices of my own. ... My belief is that interracial relationships are despicable. Vulgar and reprehensible. There's nothing worse than a half-black, and I'm crushed that my own daughter has entered into such a disgusting relationship." 
The note went on to say Hicks could find three empty suitcases in which she could pack her belongings if she decided to stay with Nike.
Hicks' tweet quickly went viral, garnering thousands of retweets as well as a slew of supportive comments from those who condemned the letter. At some point, Nike himself joined the conversation, posting screengrabs of some of the racist tweets he had received. He later posted a tweet insinuating he and Hicks agreed it would be "the mature thing to do... to end the relationship" so that she wouldn't be kicked out of her home.  The tweets and his account have since been deleted. 
There's been debate online about whether or not the letter is real, and some have accused Hicks of writing it herself after having a fight with her father over her relationship. (We have reached out to Hicks for comment and will update if we hear back.) 
Regardless of the veracity of the note, however, the sentiments expressed in it are, shamefully, not unique. As recently as 2013, an estimated 13% of Americans still admitted they don't approve of interracial relationships (hell, people freak out about representations of interracial families on TV). Interracial couples still experience a large degree of stigmatization, as photographer Donna Pinckley attempted to capture in her 2015 photo series "Sticks and Stones." 
"It's kind of interesting to see, with race relations the way they are, you would think that you would only hear the comments made to older couples, but I'm finding out I have a lot of young couples, too, that have had comments made to them," Pinckley told the Huffington Post of the couples she photographed. "I find that kind of disturbing. It's not getting better."
Whether or not Hicks's story is legit, some good appears to have come out of it. Since Hicks's letter went viral, some interracial couples have tweeted selfies to demonstrate that love knows no skin color: 
h/t BET